China, EU aim to strengthen bilateral ties ahead of G20 Summit
By Fu Jing in Brussels ( chinadaily.com.cn )
Updated: 2016-06-10 23:07:06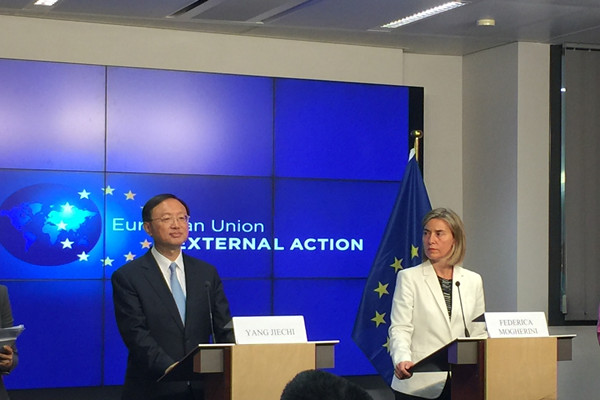 State Councilor Yang Jiechi and his EU counterpart Federica Mogherini vow to deepen the bilateral relationship at press conference of the sixth round of high-level strategic dialogue held in Brussels on Friday. [Photo by Fu Jing/chinadaily.com.cn]
China and the European Union plan to strengthen bilateral ties as they prepare for their annual summit in July, State Councilor Yang Jiechi and his EU counterpart Federica Mogherini have said when they are co-chairing the sixth round of high-level strategic dialogue in Brussels on Friday.
At a press conference both said the two parties could deepen cooperation to ensure a successful G20 summit, scheduled in September in China.
Yang also said Beijing will support Brussels in its initiative of organizing an international conference on security and development in Afghanistan, which Yang says it is an important issue of global concern.
Yang said China is determined to strengthen strategic partnership with EU after President Xi Jinping proposed to deepen relationships in peace, growth, reform and civilization during his visit to the EU headquarters in 2014.
"We are smoothly implementing the construction of partnership in the four fronts...and we are willing to maintain the high-level exchanges and deepen strategic communication," said Yang.
Before Friday's dialogue, Yang met European Commission President Jean-Claude Juncker, who will be meeting Chinese leaders at the bilateral summit in China and the Asia-Europe meeting in Mongolia in July and G20 summit.
Mogherini, EU High Representative for Foreign Affairs and Vice President of the European Commission said EU and China are both individually very important global actors and share the interest of having stability in our respective regions and some important fields of common engagement on the global level.
"So today we took the opportunity to prepare the summit and to exchange views on a very wide range of issues," said Mogherini, adding that the upcoming summit between the EU and China that will take place in Beijing at the mid of next month.
"We had so far a very intense, productive and positive meeting that it will continue in the coming hours," she added.
During the first half of the dialogue, both sides said that they have discussed the increased cooperation between the EU and China in the Middle East, which is essential for the security and stability of the world, and not only for the region.
She said China and the EU's close cooperation on the Iranian nuclear deal set a positive example to do more together in this area.
"So we discussed the scope of our cooperation on Syria, Iraq, Libya and the Middle East Peace Process; other issues on our agenda today are our cooperation on managing the phenomenon of migration that we see as a global responsibility and regional security issues in Asia, in different aspects," said Mogherini.

We will not give up search, Li vows
International hunt for missing airliner continues after fruitless six-day search