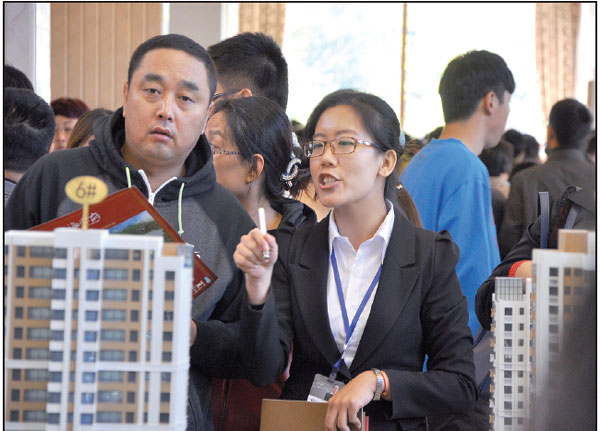 Potential homebuyers seek information at a property sales office in Rizhao, Shandong province.[Photo/CFP]
The process of de-stocking the oversupply of Chinese property still faces strong challenges. According to the latest data from the National Bureau of Statistics, the amount of property sold by area from January to April increased 36.5% year on year, compared with the whole area of residential housing for sale in third- and fourth-tier cities during January to April this year, which amounted to 4.55 trillion square meters.
Some cities are under extreme pressure, for example, Wei Hai, a third-tier city in Shandong province, need take around 20 years to sell all the property stocking as estimated.
Although supply continues to increase, the growth of demand still remains weak in third and fourth tier cities .
Third- and fourth-tier cities face a dilemma as the involved players have different agendas. Local governments are still driven by land finance, so oversupply of land directly leads to a high inventory of property which exceeds local residents' demand. Property developers are suffering from the capital chain rupture, and so suspend many unfininshed housing projects, leading to more petitions for rights protection for migrants to buy property.
People may ask why developers are still processing new construction projects in these third- and fourth-tier cities. This is due to the lag between getting through all the legal procedures for acquiring land and actually beginning construction. When the property market was doing well in previous years, winning land bids virtually guaranteed steady earnings. Now, developers who hold lands cannot simply await their doom, as banks would reclaim the land.
"Whether or not construction goes on, there will be losses, so it's just a matter of amount. At least building houses means there is hope for capital flow," an anonymous developer in Jiangxi province told China Daily website.
He also mentioned that the local government's administrative process is too long, adding to the burden of capital turnover. "When the capital chain breaks, most developers have no choice but to borrow at high interest rates. Usury is like a bottomless pit, once you start it then no chance to get rid of it."
A spot investigation conducted by China Economic Weekly launched in end of May this year found that over 60% of developers are on the edge of bankruptcy in some cities of Jiangxi province, while 80% of such developers face high interest rates. Troubled with these debts, many projects under construction lack the funds to be completed.
With the background of the economic downturn, local authorities are actively assisting developers to process debt restructuring and refinancing, at least to get uncompleted projects down, in order to guarantee the rights of buyers who bought units in unfinished housing projects. But there are few successful cases. As a result, there has been a sharp increase in petitions to higher authorities from migrants who bought unfinished houses.
De-stocking is more than just selling houses, but a systematic task, while selling the full stock would be ideal. Migrants are expected to be the key to solving the de-stocking problem. Some local authorities did create measures to encourage migrants to buy property, with the most famous case being "Meishan mode", in which migrants can get a 500 yuan subsidy per square meter if they buy houses in Meishan city's urban areas.
However, this solution also show its shortcomings: firstly, not all local authorities can afford such subsidies. Secondly, migrants may not want to settle in the city.
"Urban residence identification is not attractive at all to most migrants: no one would like to give up their land in their village nowadays" a staff member from the local branch of the Housing Authority told China Daily website.
No one wins in this gamble. Many stakeholders strongly advise the local authorities to confine their passion to sell land. Only adequately capitalized companies which can afford to absorb the loss and look to long-term investment returns will survive in this market.