The idea of dating or marrying a Chinese man never really crossed my mind before I first came to China in 1999. That's probably the last thing you expected to hear from a woman known for writing and blogging about her marriage to a Chinese man, but it's true.
When I think back to the months I spent in preparation for that year of teaching English in Zhengzhou, I draw a blank on Chinese men, apart from one simple thing. I assumed they weren't dating material for me, and I wasn't alone. An American man who had once taught in China famously told me, "You don't have to worry about the students falling in love with you."
It made sense to me. I had only ever forged friendships with foreign Asian men at my university, feeling romance was never a possibility, and had yet to move past "Hello" with any of the Chinese men on campus, who almost never noticed when I smiled or waved at them while passing by on the way to classes. I never saw white women dating Asian men on television or in the movies. Even the handful of Asian men who went to high school with me in my very white, very middle-class suburb didn't seem to date anyone, let alone a girl like me. It was as if the universe decreed that there was a racial and cultural line that I was never meant to cross if I wanted to find love.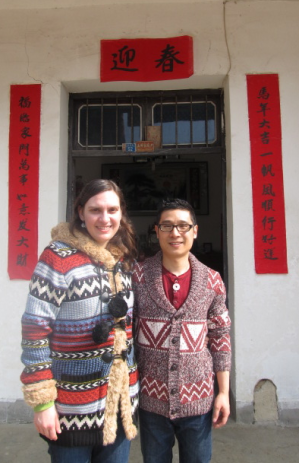 Jocelyn Eikenburg and her Chinese husband Jun poses for a photo. [Photo provided to chinadaily.com.cn]  
But a little over a month after settling into Zhengzhou, China, Yao came into my life, a Chinese version of James Dean dressed in a black leather jacket. When my heart raced after our first dinner together, I thought it was just another adolescent crush, a mistaken flirtation. Yet as Yao and I spent more time together, I realized that I loved him deeply – and that he reciprocated my feelings.
My relationship with Yao didn't last, but he ultimately opened my heart up to the possibility of marrying someone from China. It took crossing an entire ocean and time zones to realize that my assumptions about dating in China – about dating Asian men overall -- were a lie.
China taught me that love can happen anywhere, as long as you let your heart entertain every possibility of happiness, even the happiness least expected.
Of course, dating and love in China is a different experience from America. I've discovered that, when it comes to loving someone here, actions matter much more than the typical ways that Americans show their love, such as saying "I love you" or sending a Hallmark card filled with sentimental prose. Unlike in America, where it's common for couples to bond over swapping "war stories" of past relationships, my husband prefers not to discuss my past or his. I've found that meeting the parents, something that happened on the first or second date back in America, is a big deal in China and means you're serious, which is why my husband waited over a half a year to take me home with him. These differences remind me that there's not necessarily one right way to love someone, and they've opened me up to new perspectives on what it means to be in a relationship and a marriage.
By the time I met Jun in 2002, I had already imagined a Chinese husband in my future. After all, I had never felt more alive anywhere than in China, a country that ignited my passion for foreign languages and writing. I realized that a new reality made sense to me – calling someone from China my family. With the encouragement of a mutual friend, I found myself falling in love with Jun's gentle personality, his handsome looks reminiscent of the famous Chinese diver Tian Liang, his interest in existential philosophy, his dreams of a future in service to humanity, and the way he made me laugh again and again. He was perfect for me and still is.
Sometimes, the best things in life come about when you're willing to transcend your past and embrace a completely different future…or husband.
Jocelyn Eikenburg is the founder of speaking of China, a blog about love, family and relationships. She has written for The Wall Street Journal and The Huffington Post, and currently resides in Hangzhou, China with her husband, Jun.