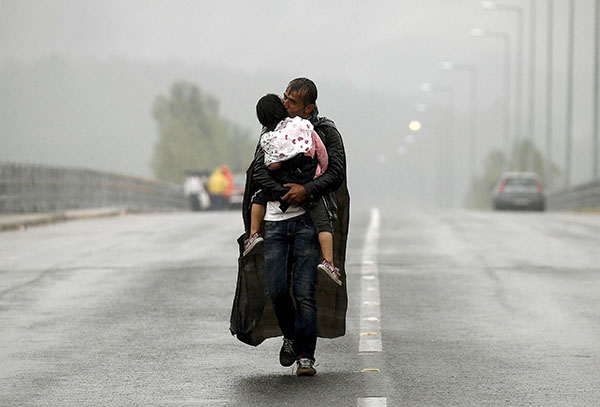 A Syrian refugee kisses his daughter as he walks through a rainstorm towards Greece's border with Macedonia, near the Greek village of Idomeni, September 10, 2015.[Photo/Agencies]
European and other international organizations have stepped up efforts to help rehabilitate the refugees in some European Union countries, and last week Germany and Austria opened their borders to receive more refugees.
Yet more than expedient measures are needed to deal with what is perceived as the most serious refugee crisis facing Europe since World War II, as the number of refugees to reach Europe so far this year has already equaled the total number of last year.
Statistics from the United Nations Refugee Agency show that from January to August, more than 300,000 refugees and illegal immigrants crossed the Mediterranean Sea into Europe, with 80 percent of them being from Syria. Of those, 2,850 people died or went missing during the dangerous voyage they undertook.
On Sept 12, authorities in Munich, Germany, said they had been stretched to the limit as they struggled to accommodate 13,000 newcomers in a single day. One day later, Germany reinstated passport checks at the border with Austria, marking an abrupt U-turn in its earlier policy of opening its doors to Syrian refugees.
With the Greek debt crisis still unresolved, EU countries are struggling to deal with the continuous influx of refugees from war-torn countries in the Middle East and North Africa. Europe faced a similar refugee crisis, though on a smaller scale, during the civil war in Bosnia and Herzegovina - from 1992 to 1995 - which forced about 2 million people to seek safety and shelter in other countries.
From a political point of view, the refugee crisis will have a huge impact on the domestic politics and policies of European countries. It will disrupt their economic and social orders, too.
For one thing, the influx of refugees into EU states will put pressure on their job markets and could even pose a threat to their security and social stability. Some media reports have already alleged that thousands of terrorists disguised as refugees are pouring into Europe. If this were true, this will only brew more trouble.