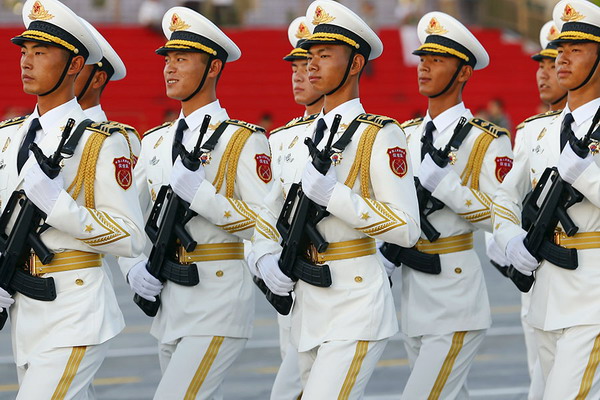 Soldiers of PLA march in formation past the Tian'anmen Square before a military parade to mark the 70th anniversary of the end of World War Two in Beijing. [Photo/Agencies]
The September 3rd military parade commemorating the anniversary of a dark chapter in world history was a breathtaking sight. Everything was done with military precision, including weather management producing the bluest of skies.
Observing the parade from Turkey, which boarders Europe and Asia, the focus of foreign news coverage was concentrated on President Xi's announcement that the People's Liberation Army will shed 300,000 military personnel, who's on the guestlist attended, and the new sophisticated weaponry in China's arsenal. Some commentators have criticized the advanced new weapons because they are not merely defensive, and can be used for aggression despite President Xi's pledge of peace. To me this is sour grapes. As a rising power, especially in its Asia-Pacific neighborhood, China is entitled to defend itself and create a deterrent force befitting its rise.
The 21st century realities are such that humans aren't quite ready to disarm and fade into the sunset singing Kumbaya. Humans score high in wishful thinking but abysmally when it comes to the record of fighting against each other since time immemorial.
Shedding 300,000 military personnel by the end of 2017 will of course enable budgets for weaponry and tools of war/peace-keeping. There are still a few old soldiers alive to remember that World War I officers were trained to use horses for combat. In the future, it's unlikely that wars will be fought mainly mano a mano, but will be done rather by complex technology-driven tools in space and cyberspace.
Some say that President Xi's announcement is just a shell-game; that the 300,000 will be redeployed to the People's Armed Police and other government agencies. While this may be true, especially for the highly trained, many soldiers, sailors and airmen (and women) are not highly educated. Given China's current clouded economic picture, I wonder if most of the people deployed will be able to easily find jobs.
There was also a soft power "weapon" not much commented on in the foreign media, the presence of First Lady Peng Liyuan. In my view, she needs further deployment at home and abroad.
Ms. Peng is the first First Lady to attend a high level military parade and the Chinese public did indeed notice. It was not that many years ago that her singing talents were celebrated at home and abroad, and her husband was little known.
China does a poor job at soft power. Ms. Peng can single handedly change that. I think of her as a Chinese Jackie Kennedy, wife of late John F. Kennedy, a fashion and cultural leader who charmed people wherever she went. She was half of the couple who gave us our idyllic American dream.
And just as Jackie did in America, Ms. Peng can serve as a role model for Chinese women, especially young Chinese women, at home and abroad. Chinese people have numerous male role models building a new China, but virtually no women.
The author is a senior adviser to Tsinghua University and former director and vice-president of ABC Television in New York.