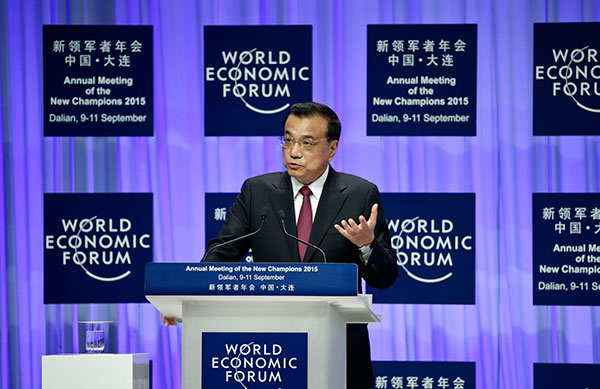 Premier Li Keqiang delivers a speech at the opening ceremony of 2015 Summer Davos forum in Dalian, Liaoning province, on Sept 10, 2015. [Feng Yongbin/ China Daily]
There is no shortage of seemingly downbeat news about the world's second-largest economy nowadays, which has stoked up global investors' concerns about the overall health of the Chinese economy, a major driving force for global growth.
This week alone, a rare downward revision of China's GDP growth rate for the previous year and a record monthly reduction in China's foreign exchange reserves last month was followed by a 13.8-percent year-on-year drop in the gross value of imports for August. This was the 10th consecutive month of declining imports, highlighting both lower global commodity prices and sluggish demand.
However, these numbers do not automatically provide a complete picture of the Chinese economy as it undergoes structural reforms and adjustments.
Hence, Premier Li Keqiang's latest promise that the country will stick to its course in pursuit of sustainable growth is a reassuring message.
To help global investors put the piecemeal information in perspective, Li went to great lengths at the Summer Davos in Dalian, Northeast China's Liaoning province, to explain that "as the traditional growth drivers get replaced by new ones, it is only natural to see fluctuations in some of the economic indicators on a monthly or quarterly basis."
More important, he assured his listeners that "we will not be swayed by short-term fluctuations in certain economic indicators, but we will not take them lightly either."
Thanks to the Chinese government's strong support for entrepreneurship and innovation, over 10,000 new market entities on average have been registered on a daily basis since last year. Other structural reforms to improve the quality of growth have resulted in such encouraging changes that consumption is contributing about 60 percent to China's economic growth while the service sector now accounts for almost 50 percent of GDP. More than 7 million urban jobs were created in the first half of this year.
Yet these positive structural changes do not mean Chinese policymakers will rest on their laurels and ignore the financial and economic difficulties the country is facing, some of which could even trigger systemic risks if not handled correctly.
Instead, they indicate the right direction for China's economy. As long as the country continues to deliver on its long-term agenda for economic reforms and development, the world economy can expect China to emerge as a more sustainable, equitable and longer-term driver of global growth.