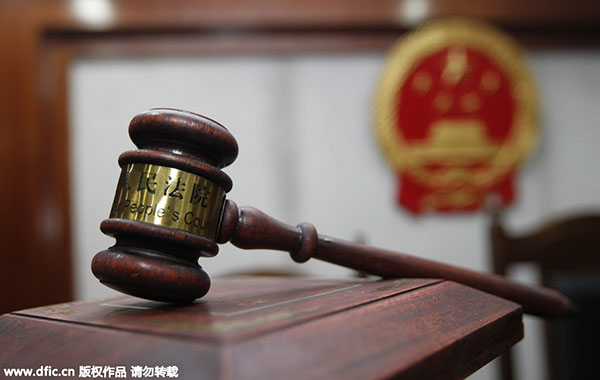 A gavel in a court. [Photo/IC]
The apology made by the Anhui provincial high people's court to 19 people who were wrongly convicted for fraudulent fundraising shows it is seeking to correct its past wrong rulings. But a set of fair and equitable judicial procedures is needed to prevent such judicial mistakes.
Some 39 defendants were prosecuted by the procuratorate in Bozhou in the province in East China for fraud, illegal fundraising and bribery in January 2010. In March, the city's intermediate court sentenced them to a range of prison terms. The defendants appealed to the provincial high court, but it gave its ruling in July 2012, favoring the original judgment, and submitted the verdict to the Supreme People's Court in Beijing for approval.
However, the supreme court repealed the sentence and returned the case for a retrial
due to lack of evidence. In the case's retrial by Bozhou's intermediate court in July 2014, the prosecution of 19 of the 39 defendants was withdrawn.
The apology, the first of its kind in China, embodies the court's courage to admit its judicial mistakes and take practical measures to eliminate their negative effects.
A series of mistrials have been corrected nationwide over the past years under the central leadership's efforts to promote judicial reforms and governance in line with the law and the Constitution. The correction of a wrong verdict by the court marks a major step toward the building of a mature and transparent judiciary and the establishment of the rule of law. But given that correcting wrong rulings cannot make up for the losses of the falsely convicted, the public wants to see fairer trials and sentences.
Courts nationwide should take measures to improve their judicial procedures to avoid making such mistakes in the first place.