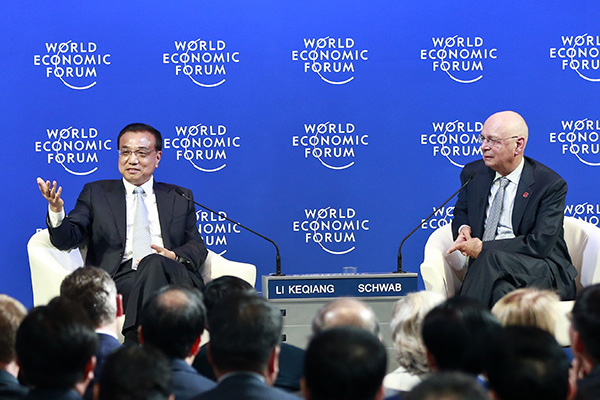 Premier Li Keqiang meets with Klaus Schwab, founder and executive chairman of the World Economic Forum, and other global corporate leaders at the 2015 Summer Davos forum in Dalian, Liaoning province, on Wednesday. [Photo/China Daily by Feng Yongbin]
Premier Li Keqiang sent a clear message at the Davos Summit in Dalian, Northeast China, that the country will not blink in the face of daunting economic challenges.
At a time when the world economy is bracing for the slowest growth since the 2008 global financial crisis, it is reasonable for the international community to be paying close attention to China's economic slowdown since it could have consequences both at home and abroad.
Indeed, at first glance the country's GDP and foreign exchange reserves data appear disappointing. And if any of them heralds a trend instead of just being a one-time adjustment, Chinese policymakers will have more problems than they expected.
On Monday, China first revised downward the GDP growth for last year, noting that the economy expanded by only 7.3 percent, a notch below the estimated 7.4 percent. Later, data from the central bank showed that China's reserves, the world's largest, fell by $93.9 billion in August to $3.557 trillion.
While it is necessary for Chinese policymakers to give heed to these changes, reading too much into these numbers in the absence of detailed explanations may risk misleadingly taking part for the whole.
Nowadays, Chinese policymakers have clearly shifted their focus from rather rushed measures to arrest the nosedive of share prices to deepening the reforms crucial to the long-term performance of the Chinese economy and the domestic stock market.
As a result, global investors would do better to heed Li's words that China is not a source of risks but a driving force for the world economy.
For global investors who desire a good understanding of China's economic reality and growth prospects, they should better fix their attention on Chinese policymakers' ongoing attempts to accelerate long-term reforms.
In the stock market, for instance, tax incentives for long-term investors and a circuit breaker for the stock markets are in the works. Such reforms have long proven effective in the stock markets of many developed economies.
In the real economy, it was reported that Chinese authorities will soon issue a guideline to further deepen reforms of State-owned enterprises.
China may continue to see more soft economic data and even stock market turbulence as the global recovery teeters amid growing uncertainties about the imminent hike in US interest rates. But as Chinese policymakers keep pressing ahead with needed long-term reforms, it is more than likely that the Chinese economy will step out of the current slowdown stronger and healthier.