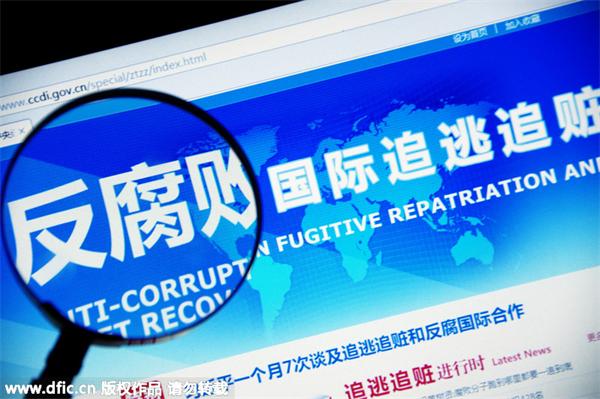 The Central Commission for Discipline Inspection (CCDI) of the Communist Party of China (CPC) opens a website to allow people to tip off the CCDI to corruption and other disciplinary violations. [Photo/IC]
Li Qinggui, the former party chief of Xinxiang in Central China's Henan province, recently lost his position due to his failure to supervise his subordinates as three department-level officials under his leadership were punished for corruption. The Central Commission for Discipline Inspection of the Party, the top anti-corruption watchdog, posted details of his case on its website. Comments:
People used to say Party chiefs were in a safe position because even if whole offices under their leadership were found to be corrupt they would not be punished. The top leadership has realized this and Wang Qishan, head of the Central Commission for Discipline Inspection, has said leaders will be punished if they neglect their subordinates' corruption.
Beijing News, Sept 8
Some argue that there is no rule in the Party's code of conduct that says a leading official will be held accountable for his or her subordinates' wrongdoings. Actually, as early as 2013, the central leadership made it clear in its documents that Party committees at various levels are responsible for their officials, and so Party chiefs are naturally responsible for ensuring the cleanliness of the officials under their leadership. Li's case means the central leadership is strictly implementing the Party rules, which is a positive signal in accordance with its promotion of the rule of law. Li's case should send a warning to other Party chiefs nationwide to better regulate their subordinates.
people.com.cn, Sept 7
Of course a leading official should be responsible for his or her subordinates. However, it is unfair to blame every Party chief and make him or her take the full responsibility for the corruption of those beneath them. More detailed rules need to be added to the Party's disciplinary regulations, so that disciplinary committees can decide how much responsibility a leading official should shoulder for any misdeeds of their subordinates.
Zhuang Deshui, a researcher with the Research Center of Government Administration at Peking University, Sept 7
In its plenary session this January, the Central Commission for Discipline Inspection clearly warned that leading bureaucrats will be held accountable for systemic corruption in their offices, because of their failure to regulate their subordinates. It is time for Party chiefs in charge of various levels of Party committees to know that when entrusting power to them, the top leadership also gives them the responsibility to regulate their subordinates.
Ren Jianming, a professor on anti-graft studies at Beijing University of Aeronautics and Astronautics, Sept 8