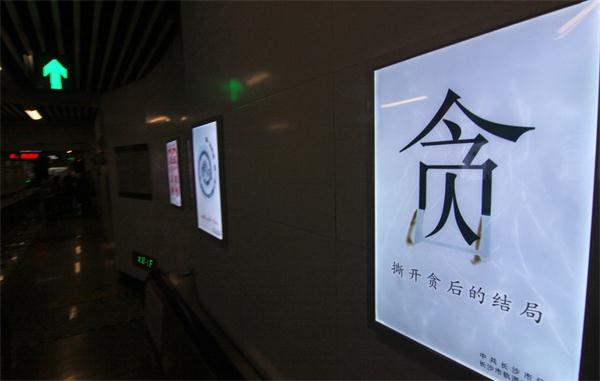 An anti-corruption signboard in the railway station. [Photo/IC]
In a country where being a public servant has long been viewed as having an "iron rice bowl" along with tempting benefits and the possibility of netting gray income, the resignation of any civil servant, especially those with a high administrative rank, always prompts speculation as to the motive.
Thus, it was no surprise the official confirmation of Mei Yonghong's resignation as mayor of Jining, Shandong province, on Sunday provoked widespread discussion, as officials with such a high administrative title are believed to possess advantages beyond the reach of ordinary people.
Such public attention was inevitable as Mei is the second senior-level official to resign in the province. In early June, Zhang Yuhua, deputy major of Heze, resigned to join a company.
In an earlier media interview, Mei said he works at least 10 hours a day, and usually over the weekends, and during festivals and public holidays, for just 7,000 yuan ($1,100) per month. While "the income of a county's Party or government chief is only 3,000 yuan, even lower than that of an ordinary worker in factories," he said.
Their low incomes are often cited by officials as the reason for resignation. And the harsher than ever anti-corruption campaign, which has curbed the sources of "gray income" for officials, is widely viewed as another factor behind the resignation of officials, and the reason why more are expected to quit in the future.
As the central leadership strengthens its efforts to build a clean government and include all the income and welfare benefits of public servants into a transparent system, all the mysteries that used to cloak this once-popular career have been unveiled, and a career as a public servant has been put on a standardized and institutionalized path.