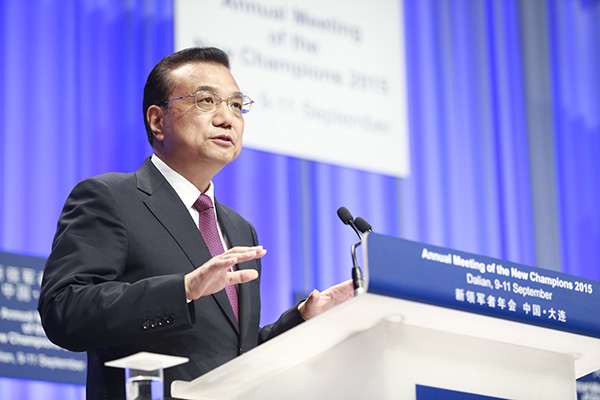 Premier Li Keqiang speaks at the Annual Meeting of the New Champions of the World Economic Forum in Dalian, Liaoning province on September 10, 2015. [Photo provided to China Daily]
Premier Li Keqiang sought to soothe global business leaders on Thursday, saying the government's pledge to prevent Chinese economy from a hard landing will not be empty talks.
Li said Chinese government will take steps to issue fine-tuning policies at a proper time to prevent short-term turbulence from becoming bigger risks.
Making the remarks in an address to an international audience at the Annual Meeting of the New Champions of the World Economic Forum in Dalian, Li said the fundamentals of Chinese economy have not changed.
"Although there are turbulences, the overall fundamentals are still upbeat.
"Pro-growth policies have started taking effects, positive factors in economic growth is increasing, and economic index has started to pick up after previously falling," Li said.
However, he admitted that the transformation from an economy heavily reliant on investment to an economy fueled by both investment and consumption will be a process "full of pains", and it is inevitable for the economy to encounter shifts and turns.
"But Chinese economy will not see a hard landing, this is not an empty talk," Li said.
Other key points of Li's speech -
Govt to make China most attractive investment destination
China will continue reforms to achieve a completely convertible capital account, and soon it will allow foreign central banks to directly invest in the interbank foreign exchange market, Li said.
China will establish a yuan cross-border payment system by the end of this year to expand the currency's use in offshore markets.
The Premier reiterated that yuan's exchange rate will remain stable at a reasonable level, and the exchange rate reform is targeting a market-decisive regime other than arousing "currency war" in the world. [More]
China driving global economy, not derailing it: Li
China is not the source of risk of the world economy, but one of the engines that is pushing its growth, Li said.
The steady growth of Chinese economy also benefits the world, as the country contributed about 30 percent to the growth of world economy in the first half of this year, said Li.
He also said that although the sales volume of foreign trade seems grow slow in the first half, the total amount of imported commodity even had a year-on-year increase.
More than 100 million Chinese had outbound travels last year, and the number of tourists saw a 10 percent year-on-year increase in the first half of this year, said Li. [More]
China vows more cooperation with foreign firms to meet demand
As China becomes a middle income country, companies need to work together with foreign firms to develop new products to meet the growing individualized demands, said the Premier.
With the increasing number of wealthy population, imported goods or goods manufactured by imported assembly lines can no longer fit the taste of Chinese. People with consumption power need more personalized and diversified products, said Li.
Advanced foreign concepts, technologies, especially talents, are in need and the Chinese government will spare no efforts to protect intellectual property rights, Li said.
He recalled a road show at Dalian's incubator space where international venture capitalists showed interest in some of the projects, adding that he believed the cooperation will go beyond investment in exchange of ideas and technologies. [More]
Better livelihood more important than economic data
China reported growth rate at 7 percent over the first six months in 2015, a widely-regarded subdued performance compared to the previous double-digit growth.
What China has done, however, is "by no means easy" for a $10-trillion economy, Li said.
What makes China's achievement remarkable is, Li added, that its economic statistics still outclassed most of other economies still reeling from a global slowdown.
Li also said that the government aims to make people better off. Some 7.18 million jobs were created in the first six months, keeping city unemployment rate down at 5.1 percent.
[
More
]