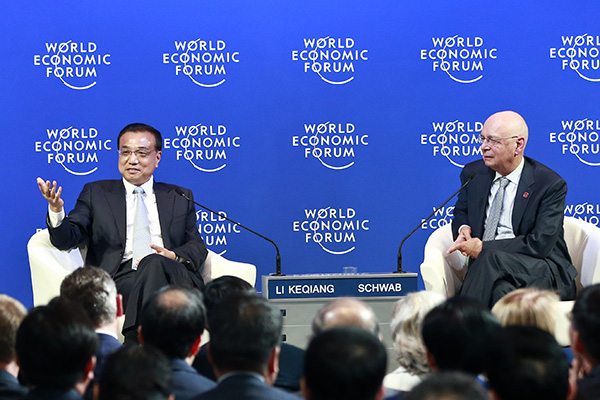 Premier Li Keqiang meets with Klaus Schwab, founder and executive chairman of the World Economic Forum, and other global corporate leaders at the 2015 Summer Davos forum in Dalian, Liaoning province, on Wednesday. [Photo/China Daily by Feng Yongbin]
'Effective policy steps prevent systemic risks'
China is in control, and its reform will continue. This was the message that Premier Li Keqiang delivered to an international audience in a briefing about the Chinese economy on Wednesday.
Referring to the recent wild fluctuations in the Chinese stock market, Li sought to assuage the world's concerns by saying that China is fully capable of overcoming systemic risk to its financial system.
Effective policy measures have been taken toward stabilizing the market, the premier said in a dialogue with global business leaders at the annual meeting of the New Champions of the World Economic Forum, also known as Summer Davos, in the northeast port city of Dalian, Liaoning province.
"Such efforts are made to prevent the wide spread of financial risks, and so far we can say that the systemic risks to the financial market have been prevented," Li said in his first public comments on the financial market since the Shanghai Composite Index dropped by about 40 percent in July to trigger a government-led, large-scale intervention.
However, Li said government intervention is a standard global practice and is "by no means intended to weaken or replace" the role of the market itself.
He offered assurance that the next step that China will take is to "stick to the market-oriented and law-abiding principle in building a transparent, stable and healthy financial market".
China will not be a cause of world economic risk. Instead, the country will continue to be a driving force of global development, he said.
Commenting on the exchange rate of the yuan, the Chinese premier said China doesn't think continued depreciation will benefit its intended yuan internationalization, signaling that Beijing has no interest in deliberately influencing the yuan's exchange rate against the US dollar.
The Chinese yuan has seen a dip of more than 4 percent in its exchange rate against the US dollar since the central bank changed its exchange rate formation mechanism in August. But the change was made "in response to the global tendency led by the depreciation of many other currencies against the US dollar", Li said.