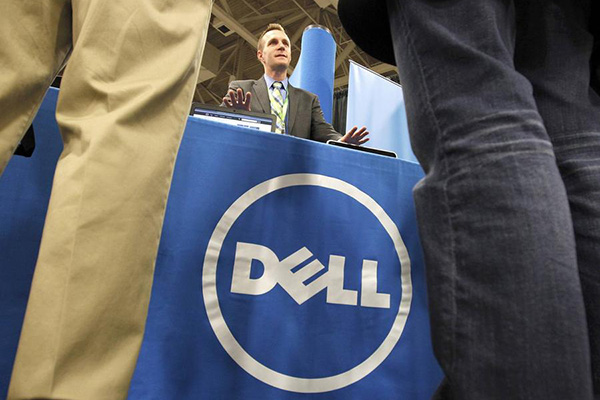 People check out computers at the Dell booth at the Rootstech Conference sponsored by Family Search in Salt Lake City, Utah, Feb 7, 2014. [Photo/Agencies]
Dell Inc said it is investing $125 billion in China over the next five years to unlock the demand for information technology products in the country.
The Round Rock, Texas-based computer technology firm estimated the giant investment will help China to create about 1 million jobs.
Michael Dell, founder, chairman and CEO of the namesake company, pledged to enlarge the research and development department in China, where the firm set up its first outlet twenty years ago.
Dell estimated the investment will add about $175 billion to the import-export economy until 2020.
Dell also announced a partnership with local tech companies. Its latest China partners include Kingsoft Software, a Beijing-based firm chaired by Xiaomi Corp owner Lei Jun.
Kingsoft will help Dell to bring the cloud services to China. Overseas cloud service providers are asked to include a local operator according to industry regulations. The announcement came amid a China slowdown which hurt overseas tech giants' businesses.
Dell currently has three plants, two service centers and two R&D facilities in China.
Its 11,700 personal computer outlets cover more than 2,200 cities and towns in the country.
The company also said 80 percent of the Chinese Internet firms are using its servers.