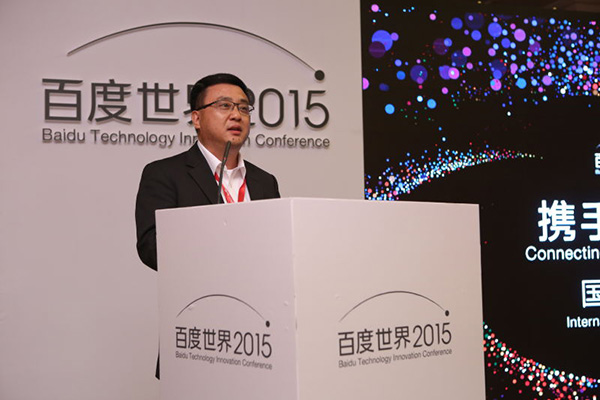 Zhang Yaqin, president of Baidu speaks on the Baidu Technology Innovation Conference in Beijing on September 8, 2015. [Photo/Provided to chinadaily.com.cn]
China's search engine giant, Baidu Inc, is eyeing Brazil, Indonesia and India as key regions for its global expansion, said the company's president Zhang Yaqin in Beijing on Tuesday.
"We chose target countries which are similar to China, with large populations and at the eve of the outbreak of mobile Internet development," said Zhang at the company's annual technology event, Baidu World Conference.
"These countries may lag behind China in terms of mobile Internet for two or three years, but we saw their potential for growth in the future," Zhang added.
Baidu will focus on mobile products for overseas expansion, said Zhang. "We have 700 million mobile product users in about 200 countries in the world and 250 million active users monthly. We rank No 1 in more than ten countries' Android systems."
China's O2O sector is ahead of other countries in some ways, even the United States, said Zhang. "We hope to apply China's experience, technologies and products to other countries."
Li Yanhong, founder of the online search giant announced in June to invest 20 billion yuan ($3.23 billion) into boosting its online-to-offline arm, its group-buying business Nuomi, within three years.
The world's No 2 Internet search engine bought control of Brazilian online-discount company Peixe Urbano late last year, the latest step in a push to expand into Latin America's largest economy.
"After joining the Baidu family for nine months, Peixe Urbano saw business sales up 130 percent and became one of the leaders among group buying websites in Brazil," said Alexander Tabor, founder and CEO of the Brazilian equivalent of Groupon.
"We learned a lot from the Chinese counterpart, Nuomi.com, which was also acquired by Baidu last year. For example, we introduced push instead of e-mail only for marketing. Now push accounts for 16 percent in the overall income through the mobile terminals," Tabor added.
Baidu's international market strategy is to integrate into the global ecosystem, said Hu Yong, general manager of Baidu's global business unit.
"With a team capable of international market development, research and operation and with a good understanding of the international market, we could be a supplement to the global ecosystem or constructor, but not the spoiler," Hu added.