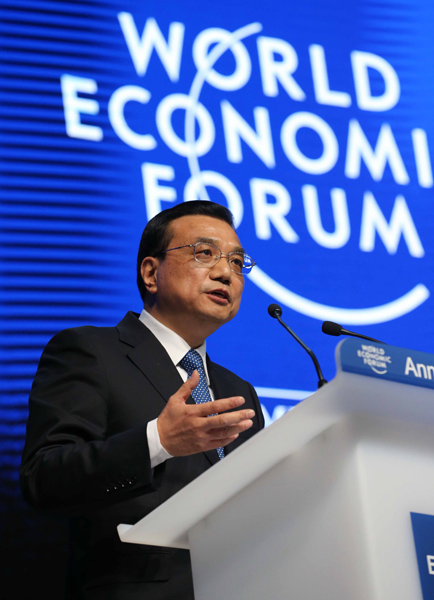 Chinese Premier Li Keqiang delivers a keynote speech at the World Economic Forum (WEF) annual meeting in Davos, Switzerland, on Wednesday. [Photo / Xinhua]
Editor's Note:
On the Wednesday afternoon, Premier Li Keqiang met with domestic and foreign business representatives at the Ninth Annual Meeting of the New Champions held at the International Conference Center in Dalian, Liaoning province in Northeast China. Following is the transcript:
Li Keqiang:
Professor Schwab, ladies and gentlemen, let me first send my congratulations on the opening of the Ninth Annual Meeting of the New Champions in Dalian. It's good to see so many familiar faces and old friends in the audience. As the place is so packed today, it's difficult for me to walk into the audience and shake hands with each one of you. But I do appreciate the interest you have shown in China by coming to the meeting and your participation in China's modernization process. I am very happy to meet you here, because each time I come to the annual meeting, I get some new food for thought. The theme of the annual meeting this year-Charting a New Course for Growth-is highly relevant. I look forward to sharing my views and observations with you on this topic.