V-Day parade strengthens Sino-Russian relations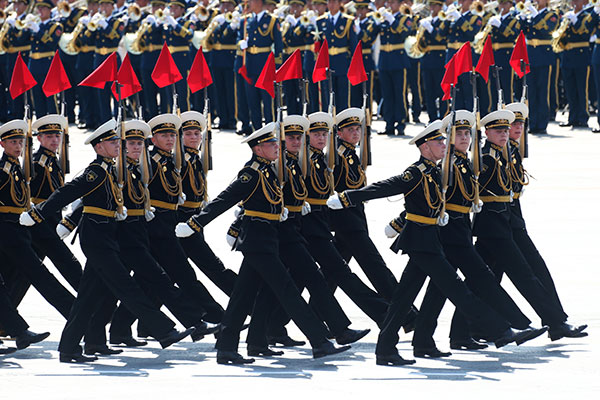 Troops from Russia march through Tian'anmen Square as part of the parade to commemorate the 70th anniversary of the world's victory against fascism. ZOU HONG/CHINA DAILY/REUTERS
Victory Day commemorates the great victory of China over Japanese aggression in World War II was first introduced as an official holidays this year. A grandiose parade staged in Beijing's Chang'an Street on 3rd of September drew large anticipation from the entire country.
For the Chinese people, Victory Day, which marked its 70th anniversary since the end of the World War II, is a holiday of massive importance. The parade was spectacular. The synchronically marching troops, military hardware, air force demonstration all sent a message to the world stating China's strenght and power. At the same time, it showed that it's ready to contribute to international security. Today, it was announced that China will reduce 300,000 military troops, proving that it is not aggression-orientated.
The leaders of China's ally countries were invited to attend the parade. Undoubtedly, one of the most interesting guest was Russian President Vladimir Putin. A similar parade is staged every year, on the 9th day of May, in Moscow, to mark the victory of the Soviet Union over Nazi Germany. Earlier this year, Xi Jinping attended the great Victory parade in Moscow in efforts to strengthen bonds between two countries. I was so proud to see the presence of Russia's army at the parade. The way they marched made me feel patriotic of my country.
The Chinese and Russian leaders signed a number of cooperation documents during President Putin's visit proving that the Russian/China relations rest on bilateral assistance.
The two very unique parades, in Moscow and in Beijing demonstrate the ability to contribute to the stable and peaceful world.