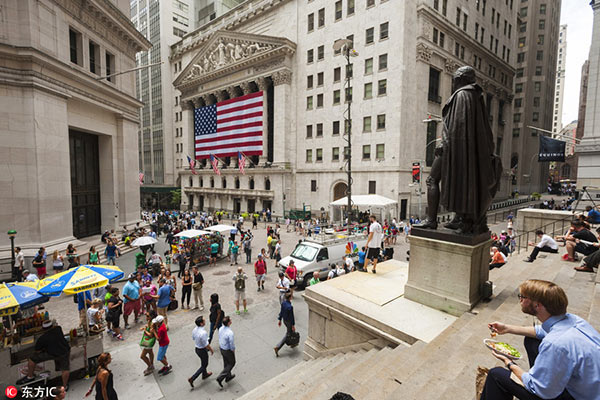 Tourists and downtown workers are pictured in front of the New York Stock Exchange in New York, July 8, 2015. [Photo/IC]
Speaking in Michigan on Wednesday afternoon, US President Donald Trump continued to blame the North American Free Trade Agreement for the loss of nearly a third of US manufacturing jobs and China for the loss of 60,000 factories since China's accession to the World Trade Organization.
During the confirmation hearing of US Trade Representative nominee Robert Lighthizer on Tuesday, Democrat Senator Debbie Stabenow from Michigan asked why Trump didn't keep his campaign promise to label China a currency manipulator on his first day in office.
Peter Navarro, director of Trump's new National Trade Council, railed against China's currency policy and blamed China, Germany and others for US trade deficits in his speech at the National Association of Business Economics last week.
It seems that pretty soon, they will blame China for the winter storm that hit Northeast US on Tuesday, paralyzing major cities such as New York and Boston, grounding more than 6,000 flights and killing more than a dozen people.
In sharp contrast, I cannot recall any senior Chinese officials or delegates to the just concluded sessions in Beijing of the National People's Congress, the top legislature, and the National Committee of the Chinese People's Political Consultative Conference, the top political advisory body, blaming the US for such things as the US' disastrous meddling in the Middle East or how the US should be held responsible, at least partly, for the serious pollution in China.
There is ample evidence to support the argument that the manufacturing of export goods to the US and the rest of the world is a big contributor to China's carbon emissions.
While many in the US criticize China for its carbon emissions, they clearly have not thought that US per capita emissions are more than two times the per capita emissions in China and the US is responsible for the historical accumulation of carbon emissions.
Chinese leaders, however, have not used finger-pointing to distract public attention. Instead they have chosen to tackle the challenge by strengthening regulations, investing in clean and renewable energy and switching the economy onto a more environment friendly path.
They clearly know that blaming others for your own problems may deflect public criticism but it does not solve the problems.
For example, China is not manipulating its currency to help its exports, something Premier Li Keqiang made clear at a news conference on Wednesday and most US economists agree. If Trump had named China a currency manipulator on Day One as Senator Stabenow wished, it would only have made the US president a laughing stock.
For the same reason, the US has the largest trade deficit with China but it also ran trade deficit with another 100 countries in 2015. Economists such as Stephen Roach and Robert Reich believe the true problem is not China, but the low saving rate in the US and too many people living beyond their means.
The calculation of the trade deficit has long been misleading because it includes added value from other places such as Japan and South Korea, which have moved their assembly lines into China in the past decades.
In fact, when Trump was speaking outside Detroit, Michigan, he should have acknowledged that China now generates a third of General Motors' global sales. Also, Michigan has attracted $3 billion in investment from China since 2000. Some 300 Chinese companies have made a home in Michigan, creating jobs for Americans.
I have interviewed Michigan governor Rick Snyder and know how passionate he is about the trade and investment relations with China.
Working with China, and looking into its own problem, instead of blaming others, would clearly help the US better solve its economic problems.
The author is deputy editor of China Daily USA. chenweihua@chinadailyusa.com