Can China lure more foreign talents with green cards?
Editor's note: According to the Ministry of Public Security, last year saw a 163 percent increase in foreigners being granted China's green card compared to 2015. The increase follows a decision to loosen its policy. Will making it easier to get a Chinese green card attract more talents from overseas? Have you applied for a Chinese green card yet? Forum readers share their opinions.
mbursian (US)
I've been living and working in China nearly 10 years and my wife and I have been married nearly nine. The entire time has been spent in Hebei, Handan. Only one Green Card has been issued in Handan and that was four years ago. Things have drastically changed over the past four years. My wife and I applied this past August... I am the second applicant to apply for the Green Card in Handan. It was quite a process getting all of the required documentation from my home state in the US, forwarding to the Secretary of State's Office for authentication and then to the Chinese Consulate General's Office for authentication, and of course all of the official translations. There were a lot of local documents that needed to be copied and notarized... tax statements, employment records, bank records, certificates of deposit, house and mortgage records, and health records. The Handan Public Security Bureau was quite helpful and supportive... although they were unsure of how to process some of the paperwork and didn't know exactly what was required. There were several delays in processing because of this and they got assistance from the Hebei Provincial PSB in Shijiazhuang. I was very grateful that they were trying to get everything right and help us along. All in all it took almost four months from the time we started the application to get it through the local level. In December, my wife got a call from the Handan PSB, they were excited to say everything was complete and they were sending everything to the Shijiazhuang PSB. That's where it sits now. Hopefully soon, it will be forwarded to Beijing for the decision to accept or not. Yes, I would definitely like to have the Green Card.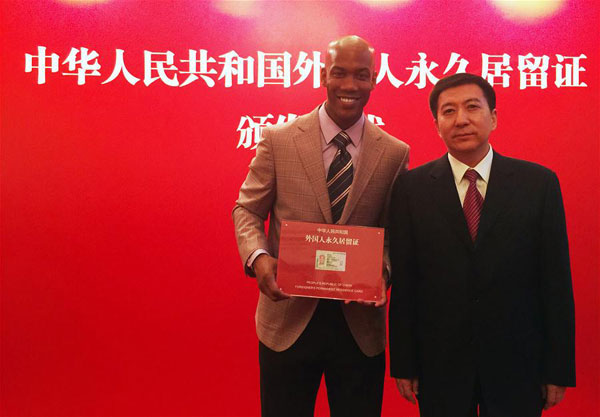 Stephon Marbury poses for a picture with Zhang Jiandong (R), vice mayor of Beijing.[Photo/Xinhua]