China's economy continues its transition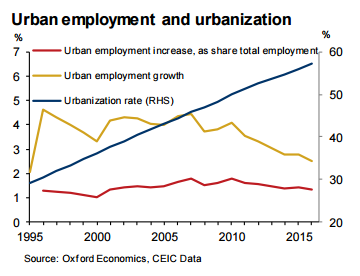 Data on China's economy in 2016 confirm the continuation of several key trends. In an earlier Data Insight we discussed the 2016 data largely in terms of the economic cycle and outlook for 2017. Here we take a step back and highlight and review a number of medium-term trends that characterize China's transition. They capture a shift towards a larger role for services and consumption, steady urbanization, declining importance of external trade and movement up the value chain. We expect all those trends to continue in the coming decade.
Key trends in the domestic economy
Real GDP growth continued to ease but remained solid. It fell from 6.9 percent in 2015 to 6.7 percent in 2016. This is a far cry from the 9.8 percent average growth as recently as in 2008-11. Still, China remains one of the fastest growing major economies and contributed 45 percent of global GDP growth last year. Nominal GDP growth picked up in 2016, as a period of deflation in industry came to an end in the fall - it was 8 percent for the year as a whole and a hefty 9.6 percent in Q4. With GDP per capita reaching $8,100 last year, the overall economy was 60 percent of that in the US in 2016, compared to 21 percent 10 years ago.
Rebalancing and transformation continued last year with both services and consumption growing at an impressive clip. Service sector value added rose 7.8 percent in real terms in 2016, compared to 6.1 percent for the secondary sector (industry, construction and mining). On top of that, prices continued to rise significantly faster in services than in industry. In all, the share of services in GDP rose from 50.2 percent to 51.6 percent, still relatively low in international comparison but around 10 ppt higher than 10 years ago. The expansion of the service sector remained brisk across the board. But growth of value added in the financial industry was relatively subdued following the stock market turmoil in early 2016.
Consumption grew significantly faster than investment. While real household disposable income growth slowed from 7.8 percent in 2015 to 6.7 percent in 2016, real household consumption slowed by only 0.3 ppt, to 7.1 percent, with spending on sports and recreational goods, medicine, furniture and "construction and decoration material" particularly strong. With government consumption also buoyant, overall consumption grew 8.3 percent. Meanwhile, we estimate that, after a stimulus-induced pick up in 2015, real growth of fixed investment fell to 6.2 percent last year (Chart 1). With consumption prices also outpacing those of investment, the share of consumption in GDP rose to an estimated 53.2 percent, 5 ppt higher than the trough in 2010.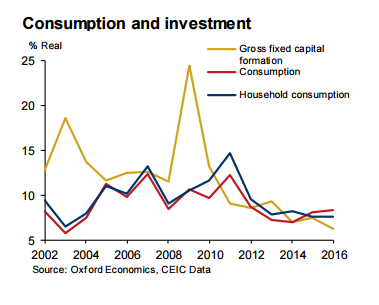 Having said this, fixed investment remains very high at a bit under 43 percent of GDP last year – down 1 ppt from 2015, we estimate – leading to a rise in the capital stock of 9 percent and a further nudge up in the capital/output ratio to 3.3 (in prices of 2010). While continued capital deepening helps raise the economy's productive capacity and labor productivity – which was up 6.5 percent in 2016 – it also inc