Trump is final chance to save US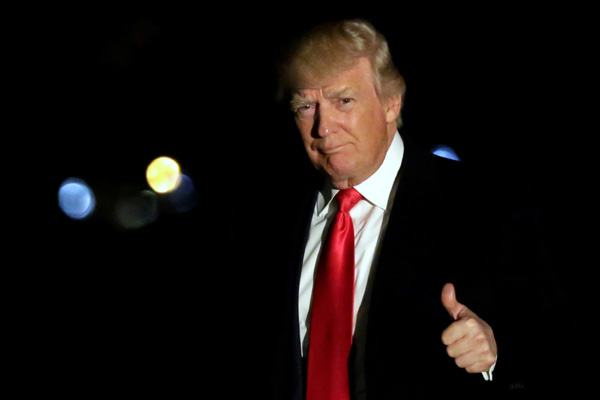 US President Donald Trump gesture as he walks on the South Lawn of the White House upon his return to Washington, US, after a weekend in Palm Beach, Florida, February 20, 2017. [Photo/Agencies]
Donald Trump's first days as president have been busy at best and chaotic at worst. It is difficult for even the most sincere supporter of President Trump to defend every midnight tweet, hastily-written executive order or uniquely unqualified cabinet appointments. Still, for those who support him, Trump represents the final chance to save the America we love - and that's good enough for us.
President Trump's 100 Day Plan for immigration reform should have been simple. Immigration is the second most important issue for American voters, economy being first. His plan called for suspending federal funds to sanctuary cities, deporting criminal illegal aliens and temporarily suspending immigration from terror-prone regions. He also declared his intent to draft legislation for more severe punishments for people illegally re-entering the United States.
Predictably, the mainstream elite did not respond well to such goals.
Once Trump began acting on his promises through executive orders, collegiate activists took to the streets (and social media) to share their vocal protest. Federal judges ignored historical precedent to declare Trump's immigration pause unconstitutional. The fake news media created such a toxic atmosphere around Trump that people were scared to publicly support him.
Despite all of this, it is important to realize that the American majority who sympathize with President Trump's vision for the future do not care about the daily drama involved with his presidency. While we may disapprove of his style, we appreciate his passion. He cares too much about tweeting, but at least he addresses the issues most pertinent to restoring the American way of life.
Americans recognize themselves as living in a land of opportunity, but increasingly, people see that opportunity as being reserved for an emerging immigrant class. From what I know, nearly 40 million, or 13 percent, of Americans are now foreign born, and our more recent immigrants frequently become immediate recipients of welfare benefits.
Studies have shown that when new immigrants obtain employment, they often do so at the expense of American workers. Many Americans appreciate how President Trump's 100 Day Plan includes immigration reform which prioritizes Americans for government assistance and jobs.
On a more global level, some Americans believe that unfiltered migration is an existential threat to any sovereign nation, and we understand the intent of Trump's executive orders. We see how the migrant crisis has caused crime and un-enterable Sharia Law ghettos to be formed in the once-stable Western nations of Germany, France and Sweden. We see how easy it is for people with nefarious intentions to enter new countries and begin plotting a cultural upheaval. We do not want that here, and see no shame in admitting it.
Trump's rhetoric against immigration has been borderline dangerous. His opposition has called him racist and Islamphobic, but his supporters are willing to ignore the reaction of the mainstream.
We understand that his politically incorrect veneer is masking something of great practical concern: maintaining the identity and independence of the United States of America. Even though Donald Trump has imperfectly handled the negative press, he is also the only man willing to endure it in order to preserve the borders, language and culture of the American people.
The author is a contrarian culture writer from the United States.The opinions of the author don't represent those of China Daily website.
If you want to give your thoughts over the performance of the new US administration or respond to her opinions, please contact us at comment@chinadaily.com.cn.