Further relaxation of green card standards needed for expats in China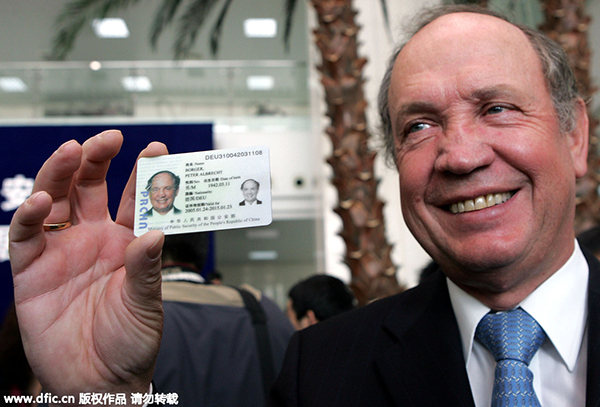 A foreigner shows his permanent residence permit in Shanghai on April 12, 2005. [Photo/IC]
A total of 1,576 foreigners were granted Chinese permanent residence in 2016, which is widely regarded as the world's hardest-to-get "green card," which is an increase of 163 percent from the previous year. However, requirements need to be further relaxed to truly make a difference for China's international talent, a critic wrote for the Beijing News.
China is hoping to attract more overseas talent and investment by making it easier for foreign nationals to obtain a "green card".
The green card is equal to a Chinese identity card. Foreigners with permanent residence will enjoy the same rights as Chinese citizens in areas such as investment, housing purchases and schooling.
China began issuing permanent resident permits in 2004. China's green card is among the most difficult to obtain and rarest to have in the world due to the high requirements involved. Every year, only about 200 foreigners are granted the card.
However, China has been easing its residence and entry policies for foreigners since September 2015.
The surge is closely related to the pilot programs launched in Chinese metropolises in recent years and reflects China's push to tap into more international talent with diverse skills to increase the country's global competitiveness.
While acknowledging the significant progress in attracting foreign brains to China, the regulations for Chinese green cards could be further relaxed and some requirements need to become more specific.
Under the present system, qualified applicants need to have worked in China for at least four years and been in the country for at least three of the previous four years.
At the same time, high-level foreign experts helping China's economic, scientific and technological development or social progress, making an outstanding contribution to China are given priority.
However, standards for gaining green card status are still too high for most foreigners. The threshold for green cards should be further relaxed through things like cutting down the requirement of consecutive years working in China.
Meanwhile, the government should optimize the function of permanent residence cards and guarantee they are more commonly accepted in daily life.