Land use reassurance for worried homeowners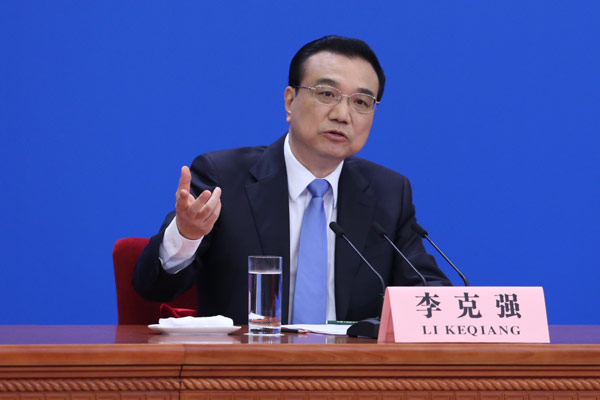 Premier Li Keqiang answers questions of reporters at a news conference during the annual two sessions in Beijing on March 15, 2017. [Photo by Kuang Linhua/chinadaily.com.cn]
THE STATE COUNCIL, China's Cabinet, has entrusted relevant departments to draft motions to revise the law on real estate protection amid public concerns over the 70-year land use limit for residential properties, Premier Li Keqiang said on Wednesday at a news conference. Beijing Youth Daily commented on Thursday:
Land use rights will be renewed without application or preset conditions, and property transactions will not be affected, Li reassured homeowners.
Li's remarks came just a week after Minister of Land and Resources Jiang Daming assured residents that their properties will be protected when land use rights expire.
A guideline issued by the central government late last year made it clear that "transitional" arrangements will be made in favor of homeowners.
The premier's remarks convey a nuanced message that the property ownership remains under protection with no strings attached when land use rights expire, and the law will be revised to make sure homeowners have the right to renew their land use rights.
However, there has been much debate about whether homeowners will have to pay to renew their land use rights.
Some argue that paid renewal can better protect the State-owned land and narrow the wealth gap between the haves and have-nots.
But others argue free renewals would be in the interests of homeowners, because they have already paid for the right to use the land when they bought their properties and they should not be charged again.
The latter seems most likely given the premier's remark about "no preset conditions".