An American's perspective on Premier Li's press conference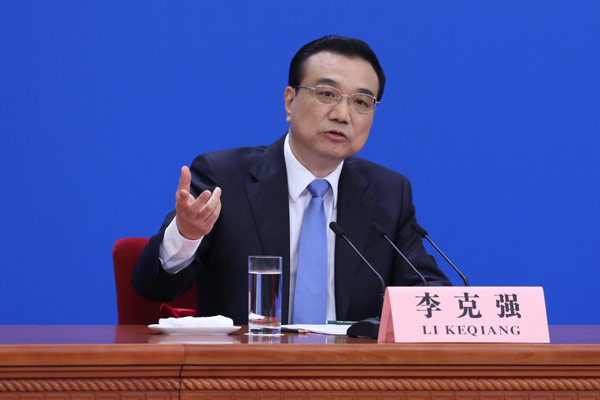 Premier Li Keqiang answers questions of reporters at a news conference during the annual two sessions in Beijing on March 15, 2017. [Photo by Kuang Linhua/chinadaily.com.cn]
I watched Premier Li Keqiang's press conference wrapping up the annual two sessions of the Chinese People's Consultative Conference (CPPCC) and National People's Congress (NPC) in Beijing. As an American, I was struck by the differences between the US and China.
In one country there is a president, a party and congress hell bent on quickly dismantling the social safety nets built up over the last eight decades. In the other, there is a president, party and a congress continuing to build its great society that has lifted 800 million people out of poverty, raised the literacy rate from 20 percent to 95 percent, and grown from an economic basket case to the world's second largest economy. One country is slamming its door on immigrants, globalization and international cooperation while the other is filling the vacuum.
Democracy and governance are not a one-size-fits-all solution. Far from it, each country has its own special characteristics. Democracy as we practice it in the US may not be suitable elsewhere. I think back to the naïve Neocons in George W. Bush's administration who fervently thought by overthrowing Saddam Hussein in Iraq and establishing American-style democracy there, that in the blink of an eye everything would be OK. Well, surprise, it wasn't and isn't OK and the death, maiming and sheer destruction continue to this very day with no sign of abating.
Contrast this to the just concluded two sessions. You may or may not like the process but you have to admit that the results of this model have been dramatic. The annual GDP growth rate in China averaged an astounding 9.76 percent from 1989 until 2016. And while the rate of GDP growth has fallen by half in the last 10 years and was 6.7 percent in 2016, the statistic is misleading when you consider that the base has dramatically expanded.
I was impressed by Premier Li's command of the facts in fielding the wide-ranging domestic, foreign and international questions.
Because the Sino-American bilateral relationship is the most important one bar none, I was buoyed by Li's upbeat assessment of Sino-American relations that "there are broad prospects for China- US cooperation".
It's a good sign that Premier Li confirmed that arrangements are being made for a Trump-Xi summit in Florida next month. Let's hope for success because it's true, as Premier Li said, that American enterprises will be the first casualties in any bilateral trade war.
I also applaud the Premier's pledge to streamline government administration and cut red tape. Many people and companies have complained about this, both Chinese and foreign. The Premier didn't use these words, but the phrase "serve the people" comes to mind. There is no excuse for mandating dozens, sometimes in excess of 100, signoffs to start a business. At the moment China is shooting itself in the foot and choking off desperately needed innovation by senseless bureaucracy at all levels.
On a guarded note, while it was reassuring that Premier Li was confident of a "soft landing" for China's economy, there are no guarantees. There are so many variables that it's more challenging than playing three-dimensional chess.
Balancing the various elements; keeping GDP growth at 6.4-6.5 percent, inflation within a range of 2-3 percent, unemployment at no more than 4.5 percent and the fiscal deficit at 3 percent, present a Herculean task. By setting the economic growth rate target at 6.5 percent, it is clear, however, that the Chinese government is opting for stability.
And although its importance pales by comparison to the other weighty matters raised by journalists, I was fascinated by the discussion about residential land ownership because in China the state owns the land and in essence licenses it to home buyers for a period of 70 years. Many, myself included, have wondered what happens after that time period expires. In the US, land ownership is "fee simple absolute" 100 percent ownership forever. Premier Li has reassuringly directed relevant departments to draft regulations providing a legal guarantee of right of renewal "without application or preset conditions".
The author is a senior featured contributor of China Daily website.
The opinions expressed here are those of the writer and don't represent views of China Daily website.