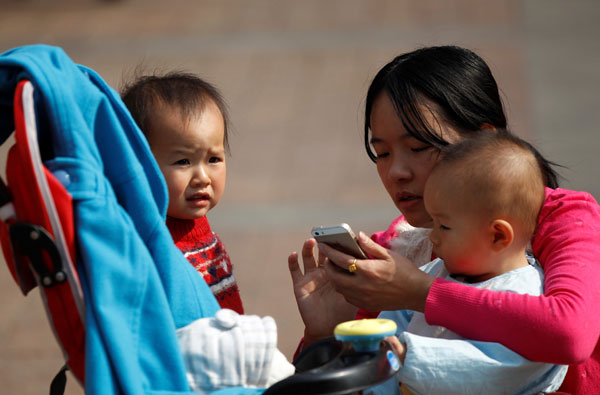 The two-child policy was put into practice in early 2014 and did not lead to the baby boom in many provinces in China. [Photo by Zou Zhongpin/for China Daily]
A couple in Chuxiong in Southwest China's Yunnan province face a dilemma, for they have to choose between the husband's job as a policeman or having a second child since the wife is eight-month pregnant. The cause of their dilemma: the existing family planning regulations do not allow them to have a second child.
Although a person can lose a civil servant's job for having a second child according to common practice, in July 2014 the National Health and Family Planning Commission issued a guideline that specifically banned abortion at an advanced stage. Many countries do not allow abortion beyond five months' of pregnancy. And abortion, irrespective of any family planning regulation, after eight months is against social ethics, because by that time the fetus acquires the basic characteristics of a human being and even could survive premature birth.
Article 49 of China's Criminal Law stipulates that a woman who is pregnant during a court trial is exempt from the death penalty, which guarantees legal protection of the fetus' right to life. And the Law of Inheritance stipulates that an unborn fetus enjoys the right of inheritance.
In July 2015, the National Health and Family Planning Commission said it was expediting efforts according to the central authorities' requirements when it was asked when will the family planning policy be adjusted to allow every couple to have a second child. So, if the family planning policy changed soon after the eight-month pregnant woman in Chuxiong undergoes forced abortion, it would be a great loss for the couple.
The couple face great pressure from the local public security bureau which the husband works for, because according to current regulations, no matter how good the officer's performance is, his achievements at work may be canceled because he fails in the family planning work assessment.
Family planning assessment applies to all personnel serving an organization. Once one person violates the family planning rules, all his or her colleagues will be affected. The problem is that the punishment for violating the current family planning policy is much harsher than that for a criminal offense, which is unfair and against the norms of modern society.
Public policies are supposed to be for benefit of the people. So, when some local family planning authorities misuse their power, they not only undermine the local government's image but also violate the central government's idea of implementing people-oriented rule.
Since China now suffers from a low fertility rate and has to deal with its consequences in the near future, the problems its strict family planning policy cause can only be described as tragic. To maintain the current population and have an ideal number of working-age people, China should have a fertility rate of 2.2, which means every 100 couples should have at least 220 children. But China's fertility rate has been lower than that. According to the National Bureau of Statistics, the country's fertility rate was 1.18 in 2010, 1.04 in 2011, 1.26 in 2012 and 1.24 in 2013. A more serious problem is that in the next decade, the population of China's ideal childbearing-age women, that is, women between 24 to 29 years, will drop to 41 million from 73 million.
Even if the authorities change the family planning policy encouraging couples to have two children, the decline in newborn population is inevitable, which will threaten China's sustainable development.
Given these facts, the family planning authorities should abolish the family planning assessment system in government organizations, and modify the family planning policy so as to avoid the impending crisis of low fertility rate.
Huang Wenzheng is a demographer and researcher in Humanities and Economics Society and Liang Jianzhang is CEO of Ctrip and professor of economics at Peking University.