All my friends were so shocked when they learned that I was going to marry a foreigner. In their eyes I am too traditional to do such a crazy thing. I must be out of my mind. Anyway, I told them he met all my requirements, so why not?
I had a clear picture of my future husband: smart, well-educated, good-hearted, humorous, responsible, tall and handsome. I don't care if he has a car or a house or whatever but he has to have a good family, loving and understanding parents and siblings if any.
In April 2011 I started working in Beiwai English Academy for K-12, and then I met Ben. I have to admit that I liked him immediately but I would not call it "love at first sight" because I never really believed it.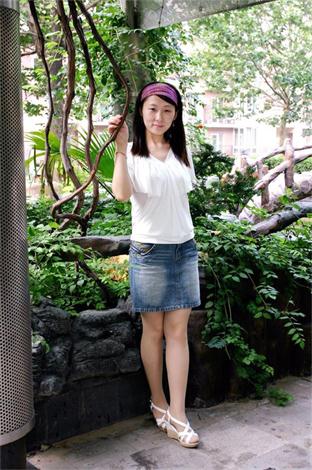 The Chinese wife,Yang Lidan. [Photo provided to chinadaily.com.cn]
We were introduced to each other by our supervisor and told that we would be co-teaching some classes together. That was our chance to get to know each other. Ben also mentioned he wanted to learn some Chinese and I had some experience in college so we started to meet outside of work.
As we got to know each other, I became sure that he could be the one for me and he probably liked me just as much if not more. One day after work, he treated me to dinner because I helped him with something at work. We had a nice talk at dinner about ourselves and our family as well.
After dinner he invited me to his apartment for a movie. I was excited and cautious. That night after the movie he asked me if I could be his girlfriend. I was very happy but managed not show it too much and said I would tell him the next day.
He later told me it was very difficult for him to wait because he didn't think it was such a big decision, while I thought it shows I am not too eager to date someone.
I told my parents. They were shocked. My aunt who was working in Beijing met him first and then my mom came to meet him. He is very cute and everyone likes him.
The winter of 2011 I flew with him to California to meet his parents, who were the nicest people I know. They did everything they could to make me feel comfortable. I like them very much. The next summer Ben's parents came to Beijing to meet my parents. They stayed for a week and had very good impressions about each other. In April 2013, we exchanged vows and got married.
I am very grateful for my parents' open-mindedness, especially my dad, who treats Ben as his own son. My mom is usually shy when speaking (or gesturing) to Ben.
Although we have so many differences, my parents are curious to learn a different culture. We do have cultural setbacks to deal with like the communication style. Ben is always very open and willing to communicate whereas I can hold back sometimes and keep my troubles to myself.
He would think I don't love him or trust him for not telling him but I just didn't want him to worry. I expect him to know what to do when I hint on something but he doesn't, for example, instead of saying "Ben, there is some laundry to be hung." I need to say "Ben, could you help me hang the laundry please?" Yes, it's important to say "please". Over time I have gotten used to it and found it quite interesting.
I think the key to cross-cultural marriage is to keep an open mind and not to take anything for granted. Culture is regional but love is universal.