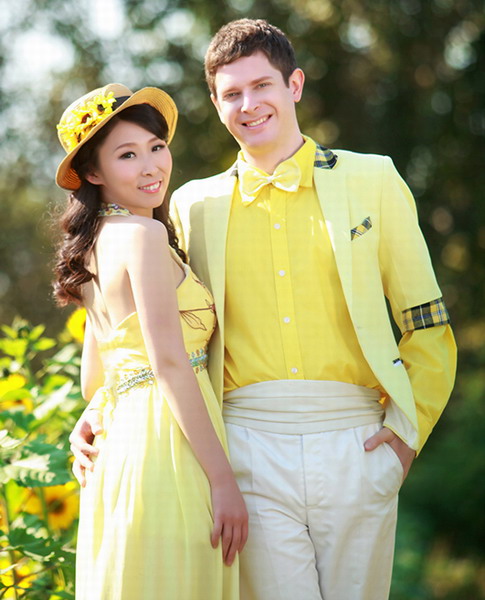 Ben and Yang Lidan(Linda) pose for their wedding photo. [Photo provided to chinadaily.com.cn]
Linda and I met a few days after I first arrived in China. I was walking around the English academy which had hired me, introducing myself to my new colleagues, most of whom were Chinese. I entered Linda's classroom, saw her, and immediately felt some interesting and happy emotions. She looked so kind, yet professional. I couldn't stop smiling like a fool. After introducing ourselves and exchanging basic questions, I asked whether she knew anyone who could tutor me in Chinese. She said she could, and agreed to meet outside work.
We sometimes exchanged non-romantic texts in the evening. After a couple weeks, I invited her to my apartment. I was very nervous. Later, I asked if she would consider dating me. She didn't immediately answer, but said she would tell me the next day. I found it very difficult to wait, but wait I did.
This was a cultural difference. In American culture, starting to date someone is not a big, important decision, but I think in Chinese culture it is. Well, she said 'yes,' and so we spent lots of time together, and fell in love. I asked her to marry me about 6 or 7 months later.
We had a Chinese style wedding in Linda's hometown. My parents came, and it was great. It went really well. Everyone was very happy. It was a very fun and interesting experience for me. Very different from a Western style wedding.
But in marriages like any other thing in life, it's not smooth sailing all the time. We have gotten into big disagreements over me not showing emotional support for Linda in the way she wants, and bad feelings can get out of control when there isn't enough understanding or communication. We have survived it by apologizing later and just loving each other and wanting to stay together.