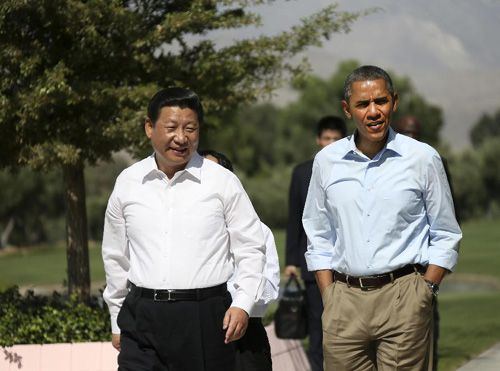 Chinese President Xi Jinping and US President Obama take a walk at Annenberg estate on June 7, 2013. [Photo/Xinhua]
Foreign Minister Wang Yi's speech in Beijing on Wednesday has provided a clear vision of China-US relations ahead of Chinese President Xi Jinping's state visit to the US next week. It is a vision of how the world's two largest economies can work together to build a better future not just for the two nations, but also the whole world.
Wang's speech addressed the skepticism many people have about a fast rising China. He did not avoid thorny issues such as the tension over maritime territorial disputes in the South China Sea and cybersecurity. But China will respect international laws, push for peaceful settlement of the disputes and fight cyber crimes together, he said.
More importantly, Wang pointed to the huge potential for China and the US to work together in areas such as bilateral trade, investment and student exchange, as well as serious global issues like the Iran nuclear agreement and fighting terrorism.
The China-US Climate Leaders Summit held in Los Angeles this week where cities, provinces and states from the two countries promised to take concrete actions to reduce carbon emissions showed how the two countries can work together and take the lead for the benefit of their countries and the world. This is another good example for the UN climate conference in Paris in December after the China-US landmark climate agreement in Beijing last November.
And in Washington last week, 15 early-career Afghan diplomats gathered at the US State Department for a joint training program conducted by China and the US.
The list of such China-US cooperation is long.
However, the two countries are far from exploiting the full potential of cooperation because of deep strategic distrust. In fact, growing distrust between the two countries could threaten cooperation when and where it's badly needed.