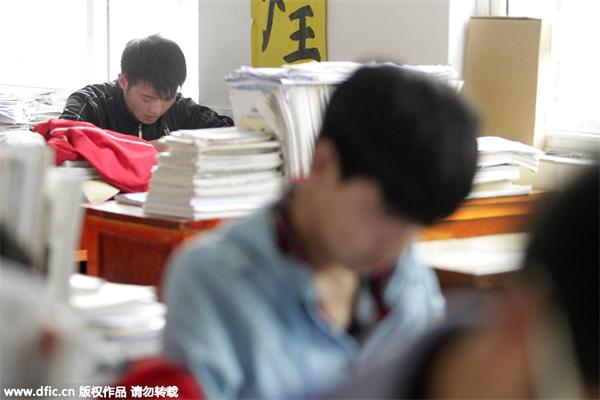 Chinese student Xie Xu, back, and his disabled classmate Zhang Chi, front, study in the classroom at Daxu High School in Xuzhou city, east China's Jiangsu province, 21 April 2015. [Photo/IC]
The Ministry of Education and China Disabled Persons' Federation jointly issued a regulation to safeguard disabled people's right to take the college entrance exam and ensure organizers make arrangements to guarantee they can do so without trouble. Comments:
Many colleges refuse to admit disabled applicants because they don't have the infrastructure to accommodate them. Some colleges don't have ramp or chair-lifters, and physically challenged students have to be carried to classes by their classmates. Other colleges don't have textbooks for the visually impaired. The situation will not change with just a regulation. The State needs to spend more resources to improve universities' infrastructure to make life more convenient for the disabled.
Beijing News, May 16
The new regulation not only sets principles, but also contains specific details about what conveniences to offer to physically challenged examinees, like exempting students with hearing disability from taking the foreign language listening comprehension test, and giving question papers to the visually impaired in Braille. That is a giant step toward equality in education.
CCTV News, via Sina blog, May 16
Physically challenged people need more than just the chance to take the college entrance exam. For example, massage is perhaps the only profession in which the visually impaired can get employment even if they earn a college degree, because most jobs - even those that do not require perfect eyesight - are not open to them. The State needs to intervene to ensure employers hire a minimum percentage of disabled persons.
China Education Daily, May 12
The new regulation is good. But why not make use of some new technologies? For example, many visually impaired people now use screen-reading software, instead of Braille, to read texts. The new regulation, however, does not allow them to choose the former. Life would be more convenient for disabled students if the authorities took the actual situation into consideration.
Life tlz, via Sina micro blog, May 16