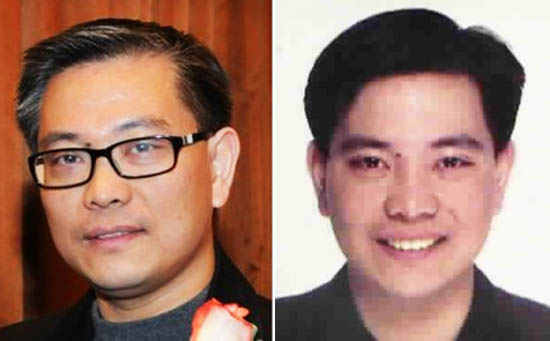 Michael Ching Mo Yeung (left), pictured in 2011, and the image of Cheng Muyang that accompanies an Interpol Red Notice seeking his arrest. [Photo/SCMP]
Michael Ching Mo Yeung, a real estate developer in Vancouver, Canada, is reported to be Cheng Muyang in reality, whose name figures on the list of 100 most wanted Chinese economic fugitives issued by Interpol last month. The 45-year-old Cheng, the son of former Party chief of Hebei province Cheng Weigao, fled to Canada in 2000 and was put on the Ministry of Public Security's wanted list a year later for alleged corruption.
Speaking at a news conference on April 30, Hong Lei, a spokesman for the Foreign Ministry, said, "staying abroad does not mean a fugitive is beyond the reach of the law". Fugitives should be brought to trial and should get due punishments, but in Cheng's case, multiple obstacles, some of them complex, are preventing his repatriation.
The first is his permanent residence permit in Canada. So unlike another Chinese fugitive businessman Lai Changxing who entered Canada but was repatriated to China in 2011, Cheng's complicated repatriation process can start only after his permanent residence permit is revoked because he has the legal right to stay in that country.
Besides, as president and CEO of Mo Yeung International Enterprise, Cheng is unlikely to turn himself in. In fact, he is said to have hired a leading human rights lawyer to seek refugee status in Canada.
The cooperation between China and Canada to repatriate fugitives is yet to gather steam, because the two sides have not signed an extradition treaty despite reaching an agreement in 2013 to share assets transferred by Chinese fugitives. The two countries' criminal judicial assistance treaty did come into effect in 1994, but it only allows the two sides to cooperate in recovering misappropriated assets, not to repatriate suspects.
Indeed, Red Notices, Interpol's highest-level alert, have been issued to 189 member countries, requiring them to assist in the arrest and repatriation of fugitives living within their boundaries. But "repatriation" is only an encouraging term not a compulsory feature of the notice, meaning the fugitives can be but not necessarily will be repatriated.
Likewise, the United Nations Convention Against Corruption does not provide the legal basis to allow signatory parties, including China and Canada, to repatriate fugitives more freely. And despite going by the law, based on the decisions made by judges in earlier cases, Canada has few judicial precedents on the exchange of fugitives with China.
Deng Xinzhi, a Chinese national involved in a 24-million-yuan ($3.9 million) fraud in 2002, was handed over to Chinese authorities in 2008 after his Canadian tourist visa expired, signifying notable progress in bilateral cooperation in hunting criminals. Yet Deng's repatriation is hardly a case in point, because repatriation, offsite prosecution and persuasion are alternative measures that do not necessarily constitute extradition.
Moreover, China and Canada are yet to reach an agreement on how to deal with the recovered illegal assets, because Beijing insists that all recoveries should be returned to where they belong, while Ottawa says it deserves a share of the recovered wealth. And if its claim is not accepted, Canada may be less motivated to help China.
This should prompt Beijing to use more flexible tactics, such as different legal and diplomatic channels, to get Cheng repatriated. For one, it can exploit the loopholes in Cheng's application for permanent residence in Canada to invalidate his stay in that country, or force him to surrender by persuading his family to return to China.
More importantly, based on successful cases like the repatriation of Lai Changxin, Canada and China are supposed to cooperate closely on repatriations and sharing of recovered ill-begotten wealth. The June 2013 treaty between the two sides on assets recovery says that, apart from the legal earnings, the rest of the recovered assets can be shared by China and Canada after the reasonable expenses are deducted. China has every reason to take steps to get the best out of the treaty.
The author is an associate professor of law at Southwest University of Political Science and Law.