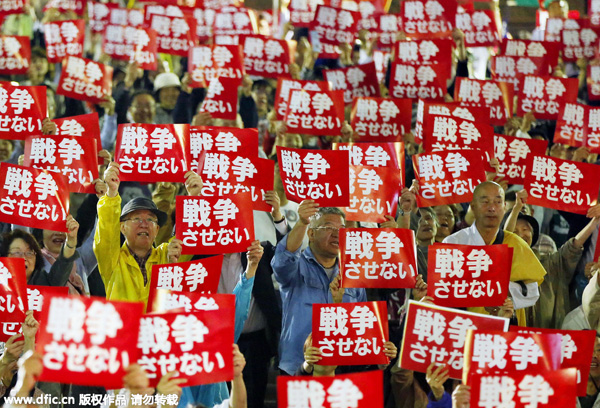 Opponents of planned legislation aimed at changing Japan's exclusively defense-oriented security policy raise placards with the message "(We) will not tolerate war" during a rally in Hibiya Park in Tokyo on the night of May 12, 2015. About 2,800 people took part in the event organized by civic groups in the metropolitan area. [Photo/IC]
Arms dealers from around the world flocked to Yokohama last week for Japan's first post-World War II ammunition exhibition because they had enough reason to believe the country was emerging as a new big buyer of weapons.
Coincidentally, the Japanese cabinet approved two bills last week to allow deployment of Japan's quasi-military Self-Defense Forces abroad. The bills are expected to be passed during the current session of the Diet, which ends on June 24, fuelling a huge demand for weapons and logistics equipment by the SDF.
The two bills, after being passed, will become laws and allow the SDF to exercise collective self-defense if Japan's allies are attacked, even if Japan is not, if it "believes" it could pose a threat to the country. The SDF would also be able to help other allies in other parts of the world if it deems it necessary to maintain "peace and security of Japan". Once the bills become laws, they will necessitate the revision of Japan's 10 existing laws related to the SDF that limit its activities overseas.
The new initiatives codify the reinterpretation of Article 9 of Japan's Constitution by Japanese Prime Minister Shinzo Abe's cabinet last year. That article, in its present form, says Japanese people will renounce war and the use of force to settle international disputes.
Since its surrender in WWII, Japan's military has not engaged in combat. But successive governments have stretched the limits of the pacifist Constitution not only to allow the building up of a standing military but also to permit non-combat missions abroad.
Conservatives in Japan use the changing regional power balance - the rise of China, in particular - as the reason for changing Japan's security policies. Reflecting its growing interest in the South China Sea, Japan held its first joint naval exercise with the Philippines there last week. An AFP report says the Philippines insisted the exercise was focused on building its military capabilities, but security analysts have said it is a response to China over maritime territorial disputes.
Abe's policy of China-bashing serves to aggravate rather than ease tensions. The shift in Japan's defense policy is taking place at a time when it is increasing its defense budget, lifting the ban on export of weapons and military hardware, and beefing up security and strategic ties with countries like Australia, India, the Philippines and Vietnam. These steps will enable Japan to become more assertive in Asia and beyond.
At Yokohama's three-day exhibition, Japanese weapons' makers - Mitsubishi Heavy Industries and Kawasaki Heavy Industries being the two largest - were trying to elbow their way into the global arms business.
After easing the curbs on military exports last April, Japan has been trying to tap foreign markets for its weapons' industry, including potential deals to sell submarines to Australia and seaplanes to India. Japan also wants to sell its submarine-hunting jets to the United Kingdom.
Last year, Japan and the UK agreed on a deal that will see Mitsubishi Electric Corp partner European missile maker MBDA to develop medium-range air-to-air missiles for F-35 stealth fighters. And to facilitate its arms exports, Japan is planning to set up a new agency modeled after the US Defense Security Cooperation Agency, which is part of the US Department of Defense, for arms' sales, training and services to allies, and to maintain military-to-military contacts with allied countries.
People in and outside Japan are worried about Japan becoming a more proactive military force as its leaders refuse to squarely face the country's war past. Japanese daily Asahi Shimbun has called July 1, 2014 - the day the Abe cabinet ratified the new constitutional reinterpretation - "the darkest day in the history of Japan's constitutionalism".
Japan's legal framework will no longer stop it from modifying its defense policy, because it pertains to security and defense affairs. This has created a dilemma for Japan's pacifist Constitution. Once the new security-related bills become laws, Japan will have no choice but to rewrite the charter. Or, the charter will become just a piece of paper.
The author is China Daily's Tokyo bureau chief. caihong@chinadaily.com.cn