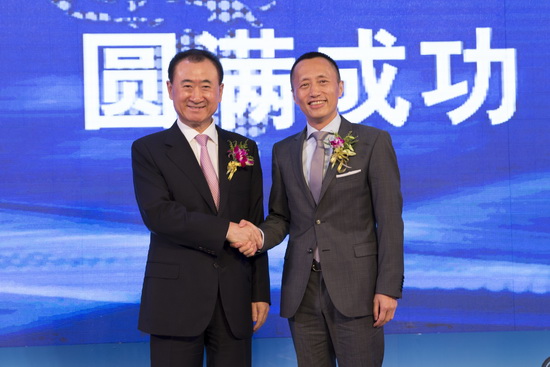 Wang Jianlin (left), chairman of Dalian Wanda Group Co, and Yu Liang, CEO of China Vanke Co Ltd, shake hands after the two real estate developers inked a strategic cooperation agreement on May 14 in Beijing. [Provided to China Daily]
Wang Jianlin, chairman of Wanda Group and one of the richest people in China, recently said the relationship between entrepreneurs and the government is important and complicated, and "it is impractical to stay away from the government in China".His comments have sparked a public debate, because the exchange of power for money is said to have dominated the relationship until now. Comments:
The government has so much power that some officials can even decide whether a new enterprise can be registered - that's the key reason for the distorted relationship between government officials and entrepreneurs. Hopefully, the anti-corruption campaign and the reform to free businesses of excessive government interference will correct the relationship.
jjjcb.cn, May 16
Since the government still controls incomparable amounts of resources and has almost absolute say in many matters, it is impossible for entrepreneurs to not interact with government officials. But they need to use the relationship artfully in order to prevent it from becoming a trade between power and money, which not only can ruin the enterprises' future but also land entrepreneurs in prison.
Morning Post, May 16
The relationship between officials and entrepreneurs reminds people of corruption because for long officials, not the market, has been deciding the allocation of resources, and promoting bad habits among businesspeople. The country's top leadership has promised to let the market play a decisive role in the allocation of resources, and this move will end the trade of power for money.
Zeng Wei, a writer, via WeChat, May 16
Everyone is a victim in a world without law. This applies to businesses too. Even after 35 years of market-oriented reform, China's market is still like Thomas Hobbes' "jungle", in which entrepreneurs need to bribe officials to survive and officials take immense risks to seek rent for power. What is needed is further reform to establish the complete rule of law that gives businesses a basic sense of security.
Reporter' Notes, April 21