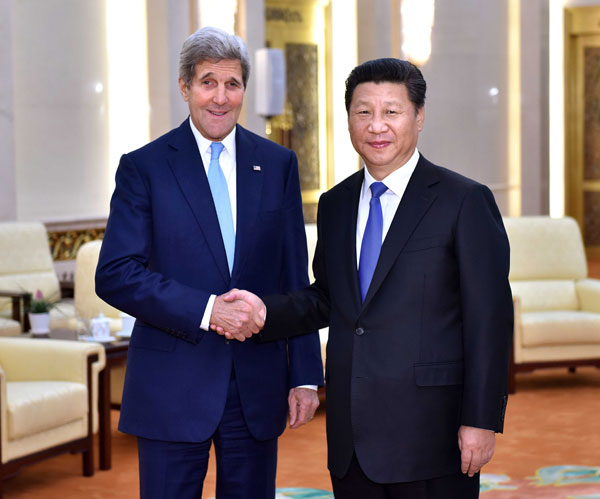 Chinese President Xi Jinping (R) meets with US Secretary of State John Kerry at the Great Hall of the People in Beijng, capital of China, May 17, 2015. [Photo/Xinhua]
By calling on the United States and China to take more measures to deepen mutual trust, reduce doubt and boost cooperation, President Xi Jinping conveyed China's sincere wish to see better bilateral relations when he met with US Secretary of State John Kerry in Beijing on Sunday.
The same message was passed on by Premier Li Keqiang to Kerry on Saturday.
This has been China's long-standing and consistent policy. But some US politicians have responded differently by trying to interfere in China's disputes with some of its neighbors in the South China Sea. A recent report said the US is mulling sending military vessels and planes to within 12 nautical miles of the islands where China is carrying out construction. Some earlier reports even said Kerry would visit Beijing to express US' concern over China's activities in the South China Sea.
It is clear that China will not back down on the question of sovereignty, and its leaders have been reiterating that China will settle the maritime disputes through talks and negotiations.
By backing the countries that have territorial disputes with China, the US has further complicated the already complex South China Sea issue. And by taking sides in the disputes, the US has added uncertainties to US-China relations and diverged from the cooperative track of bilateral ties.
The US government and political figures like Kerry should know the importance of China-US relations in regional stability and world peace. But by viewing China's peaceful rise with suspicion and trying to counterbalance it to enhance its own waning influence across the globe, the US has exposed its bias. The US' challenge to China's core interests is detrimental to political stability in the Asia-Pacific and to world peace.
As Chinese Foreign Minister Wang Yi said, there are more common interests than differences for both countries to work on. While devising their China policy, the US government and politicians need to keep the global perspective in mind and see beyond their immediate interests.
The US and China do have differences and even contradictions. But it would be stupid to allow them to stand in the way of sound interactions. And it would be disastrous for the two countries to let them spin out of control leading to confrontations.
To better manage their differences, the two countries have to deepen mutual trust, which can hopefully be done through exchange of views between the two governments. And that is exactly what is expected of Kerry's visit to China and President Xi Jinping's visit to the US later this year.