Forty-eight athletes with intellectual disabilities attended a carpet bowls game in Juyuan New Area in Jiading district on April 23.
Carpet bowls can provide players with open air exercise and improve their mental and physical condition. The sport has been a traditional activity of the Special Olympics.
Hang Genmei, 46, a mentally impaired bowler from Juyuan, said she feels happy when doing the sport. From 2007 to 2014, players from Juyuan have won gold medals at the carpet bowls race of the Shanghai Special Olympics for eight consecutive years.
Next month, four winners will compete at the 6th National Special Olympics representing Shanghai.
The Juyuan New Area has made great efforts to help the disabled. Last year, Juyuan renovated its "sunshine home", or community health rehabilitation center, where many events were held to enrich the disabled people's lives.
The area also cooperated with non-profit social organizations to establish a handmade soap workshop, where the physically and mentally challenged people can earn money with their own hands.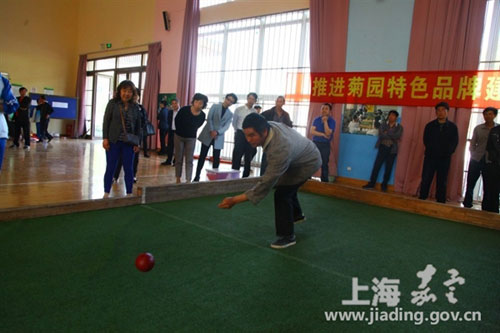 Mentally impaired athletes attend a carpet bowls game in Juyuan New Area. [Photo by jiading.gov.cn]