Physically disabled can be productive workers
Updated: 2015-03-19 07:19
By Paul Surtees(HK Edition)
| | | | | | | | | |
| --- | --- | --- | --- | --- | --- | --- | --- | --- |
|   | | Print | | Mail | | Large Medium  Small | 分享按钮 | 0 |
Spare a thought for the predicament of those unfortunate enough to be born blind, or to go blind, in Hong Kong. Their truly unenviable plight would be made at least somewhat more bearable were a number of things to change in this incredibly wealthy "World City".
Firstly, and very regrettably, there remains a widespread and deep-rooted prejudice against them in the workforce. To its great credit, the Hong Kong government has taken positive steps to offer job opportunities to the handicapped so they can join its ranks, and become more productive members of society.
This constructive modern approach acknowledges that those who are blind or physically handicapped may simply be "differently abled" and should not be automatically ruled out of contention in job recruitment simply because of what they cannot do.
Unfortunately the proportion of private sector employers willing to hire the blind and other handicapped people is still dismally low.
And this is where the media and public education is needed to devote efforts to the promotion of such opportunities.
Apart from the salary, which brings the disabled worker financial independence, being able to hold down a job also brings tremendous self-esteem - indispensable to leading a happy and fulfilling life. Furthermore, more productive employees in the workplace also lead to less discrimination once such employees see they are equal to their able-bodied colleagues.
It is also important that the blind and disabled, who have managed to lead independent lives, should mentor the newly blind and newly disabled, as they have a deeper understanding of the challenges than anyone else. The long-established self-help group, Hong Kong Federation of the Blind, runs a training program which encourages its members to put this into practice.
On the social level, much more could be done during secondary education to help ensure that coming generations of young people become less prejudiced about disabled people than their forbears. Familiarity here could breed respect. Representatives from various disabled groups, who are themselves disabled, could give talks in Hong Kong schools - sharing with pupils what their very different lives are really like. Such talks have already taken place, but not as frequently enough as they should. The Education Bureau could set up far wider-ranging programs, to the benefit of all.
A great boost to a blind person is to have the pleasure of listening to a talking book, where volunteer readers have recorded the text. This is an established global offering to the blind, although the local provision of such audio books here in Hong Kong is not yet fully developed.
The frail, the infirm, those needing walking aids and wheelchairs to get around, as well as the blind, find the provision of handrails on steps, and slopes at the entrances to buildings and public transport, makes it that much easier to travel around Hong Kong. Again, more needs to be done as too many of Hong Kong's facilities represent an obstacle course for the "differenly abled".
It would help if residents looked out for steps with no handrails, then reported the deficiency to the relevant authorities, requesting action. Recent approaches to the Bank of East Asia headquarter in Central, and to the Law Courts in Wan Chai, swiftly resulted in new handrails being erected at their entrance steps. The owners of many other buildings in Hong Kong could easily afford to do the same - and your report may encourage this.
Guide dogs for the blind have been used for hundreds of years elsewhere, with their large-scale introduction in the US and Europe dating back over 80 years. It is therefore good to note that Hong Kong is at last starting to catch up, with our first training centre for guide dogs, in Kwai Shing, opening this month.
Then there is the common reluctance to offer a helping hand to a blind person crossing a busy road, or someone unsteady on steps or escalators. Better school-level education could instill a more public-spirited willingness to offer help to those who may need it to get around town. Currently, the instinct of too many is to keep away from disabled people in public areas. They were treated almost like pariahs in some cases, which I believe can be attributed more to ignorance than malice.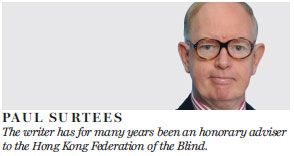 (HK Edition 03/19/2015 page10)