Reduced majority means Liberals will need help from opposition to pass legislation in Parliament
OTTAWA - Canadian Prime Minister Justin Trudeau's Liberal Party held onto power in a nail-biter of a Canadian general election on Monday, but as a weakened minority government.
Television projections as of 2 am on Tuesday declared the Liberals winners or leading in 156 of the nation's 338 electoral districts, versus 122 for his main rival Andrew Scheer and the Conservative Party, after polling stations across six time zones closed.
For Trudeau's Liberal Party, falling short of a majority meant it would have to rely on an opposition party to pass legislation.
"From coast to coast to coast, tonight Canadians rejected division and negativity," Trudeau said. "And they rejected cuts and austerity and voted in favor of a progressive agenda and strong action on climate change."
He reassured Quebec that his Liberal government, despite an electoral setback in the French-speaking province, "will be there for you".
He also spoke directly to a growing sense of Western Canada's alienation within the federation, telling those in Saskatchewan and Alberta provinces: "I've heard your frustration."
The 47-year-old former school teacher dominated Canadian politics over the four years of his first term, but faced a grilling during the 40-day election campaign, which he described as one of the "dirtiest and nastiest" in Canadian history.
In his concession speech, Scheer said the results showed Trudeau was much weakened since his 2015 election, when pundits had predicted the beginning of another Trudeau dynasty.
"Tonight Conservatives have put Justin Trudeau on notice," said Scheer, only two years after winning the leadership of his party. "And Mr Trudeau, when your government falls, Conservatives will be ready and we will win."
Robert Bothwell, a professor of Canadian history and international relations at the University of Toronto, said: "It's not quite the same as 2015. It's not all owing to the leader.
"Trudeau is prime minister because the rest of the party was able to pull itself together and prevail. While Trudeau certainly deserves credit for what has happened he's really going to have to demonstrate qualities that he hasn't yet shown."
Still, the results were a victory for Trudeau, whose clean-cut image took a hit after old photos of him in blackface and brownface surfaced last month.
"I'm surprised at how well Trudeau has done," said Nelson Wiseman, a political science professor at the University of Toronto. "I don't think anybody expected Trudeau to get a majority but they are not that far off."
About 27.4 million Canadians were eligible to vote in the election, and the turnout was reported to have been large, at almost 65 percent.
A record 97 women were elected to Parliament, including Canada's first indigenous attorney-general, Jody Wilson-Raybould, who ran as an independent candidate after Trudeau kicked her out of his caucus.
Trudeau won a majority government in 2015 with 184 of the 338 seats in the House of Commons, compared with 99 seats for the Conservative Party, 44 for the New Democratic Party, 10 for the Bloc Quebecois and one for the Green Party.
Agencies - Xinhua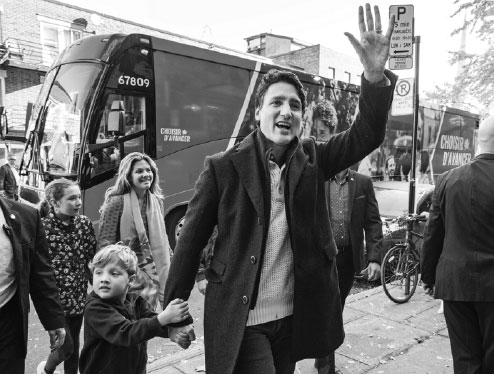 Canadian Prime Minister and Liberal leader Justin Trudeau arrives at a polling station with his son Hadrian, his wife Sophie and daughter Ella-Grace in Montreal on Monday.Paul Chiasson/associated Press