Chen Peisi has been a star ever since his debut in a sketch comedy for CCTV's Spring Festival Gala in 1983. He has made Chinese audiences laugh over the past three decades.
Two years ago, he took on a new role as the artistic director of Beijing Comedy Theater, a project that started in 2015 under the management of the National Center for the Performing Arts.
Now, he is going to present the 2017 Beijing Comedy Arts Festival, which not only introduces original Chinese comedy productions but also foreign ones.
The annual festival, which was launched in 2015, will be held from Oct 13 to Dec 16.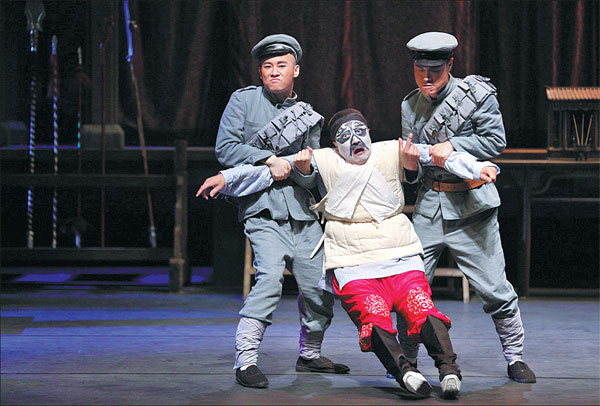 The Stage tells the story of Peking Opera artists in the 1930s. The comedy, starring Yang Lixin (center) in the lead role, will be staged in Beijing in October. Photos Provided to China Daily
"In this busy city (Beijing), theater brings laughter and joy to the residents. The past two years have proved that we were right to offer specialized comedy theater to the public," says Chen, 63.
According to NCPA vice-president Li Zhixiang, audience attendance for the comedy theater has reached 740,000 and boxoffice takings totaled 58.6 million yuan ($8.9 million).
Chen's latest attempt to evoke the laughter of his audience is through a drama, titled The Stage, which tells the story of Peking Opera artists from the 1930s. In it, he plays the role of a boss who runs such an opera troupe and faces the dilemma of dealing with government officials on the one hand and with warlords on the other.
His plays have always revolved around stories of misfortune.
The Stage premiered in Beijing in 2015, and has since widely toured the mainland. The drama will return to the city as part of this year's Beijing Comedy Arts Festival.
"It seemed like I had waited for this my whole life. I finished reading the story overnight. I laughed and felt sad at the same time," Chen says.
So far, Chen has produced five original comedy plays, including Tuo'er and Balcony, which have received both commercial success and critical acclaim.
For him, The Stage pays tribute to Peking Opera, an old art form of the country.
He says he brought traditional elements of the opera into the show by consulting veteran artists and historians.
Chen invited senior actor Yang Lixin to play the role of a Peking Opera amateur performer.
The festival will open with Hong Kong comedy director and actor Jim Chim Suiman's directorial production, One Night in Wu Huan, which is based on the late French playwright Georges Feydeau's classical work, Free Exchange Hotel, revolving around a night of Valentine's Day.
Other festival highlights will include British theater company Told by An Idiot's Family Who, Get Happy, and comedian Paolo Nani from Denmark, who will bring his show, Jekyll on Ice, in which he plays Jekyll, an ice-cream salesman.
In July, when Beijing Comedy Theater marked its second anniversary, veteran Chinese director Chen Xinyi staged her latest production - the Chinese version of William Shakespeare's play, The Merchant of Venice.
With a cast of young actors of the NCPA, she also introduced a live band, including a cellist, a violinist and a trumpet player. The audience was happy.
It will be staged again at the 2017 Beijing Comedy Arts Festival for five shows.