Shopkeepers and stallholders selling off goods at discount prices as migrants are evicted from camp
An island of comfort in the squalid Calais "Jungle", the Khyber Pass Cafe is one of the few still serving customers even as migrants heed an eviction order and camp residents move out.
Open since April, the cafe has been housed in a large forest green-colored tent. Inside, migrants and aid workers sip tea and coffee, and eat traditional Pakistani dishes, including beans soaked in a spicy sauce and saffron rice.
"Our menu is limited today. We are hours from closing down," said Soheil, its 33-year-old owner, who did not reveal his last name for security reasons.
When Soheil arrived in the Jungle on April 7, he was "shocked" by the state of the camp, which migrants have used as a launchpad for dangerous attempts to reach Britain.
"I decided the only way forward was to set up this cafe. I go to work the very next day," said the former sales executive, who spent several years in Dubai and speaks good English.
It took Soheil two weeks to build the Khyber Pass Cafe, named after his native region, which borders Afghanistan.
Its flimsy walls are covered in slver and gold paper, with flags of Egypt, Sudan and Syria pinned up, as a welcoming gesture to guests from all over the world.
In some ways it serves as a symbol for the community spirit some see in the Jungle.
In Pakistan, Soheil was an influential member of his tribe. But after an assassination attempt by the Taliban last year, it was the elders of his own tribe who advised him to flee, he says.
Asked whether he dreams of returning to Pakistan, he says his "priorities have changed now. I used to put my tribe first."
Now, he plans to keep his cafe open for at the most another day, and to evacuate by Wednesday.
"My dream is to end up somewhere in Brittany. I have never been, but I have seen pictures, and it is beautiful. I want to open a restaurant, a proper one this time, and I want to help others who are less fortunate," he says.
Nearby, Jaan Sina, a 26-year-old from Afghanistan braves the chilly Calais weather as he stands by his stall, looking for buyers for the last of his merchandise.
He sells shoes, cellphone batteries, plastic cutlery, umbrellas, padlocks, washing-up liquid and cigarette filters - an odd mixture of goods that are all vital for day-to-day survival in the Jungle.
But Sina, who used to be a taxi driver before he came to the Jungle, is now advertising discounted rates, as he too gets ready to leave.
"As soon as everything is sold, I am getting out of here," he said.
One group of Afghans gather around another stall a short walk away along a muddy alleyway, sharing tea.
"Everything you see here, even the shoes, you can have them at one or two euros," said Muman, a 23-year-old also from Afghanistan, pointing at all that remains on sale at his bare-looking street stall.
"It's over. No more UK for me. I'm staying in France."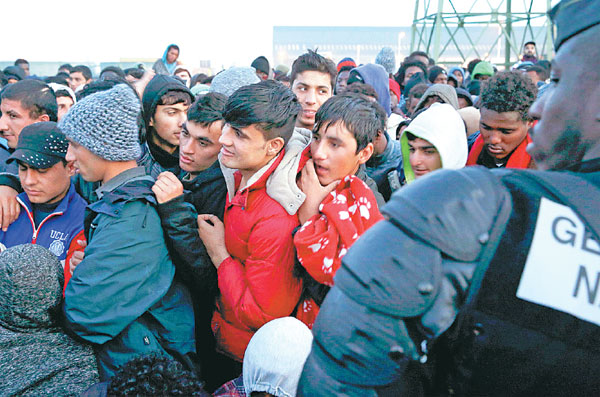 Migrants who claim to be minors wait for their registration and their evacuation on the second day of the dismantlement of the camp called the "Jungle" in Calais, France, on Tuesday. Pascal Rossignol / Reuters