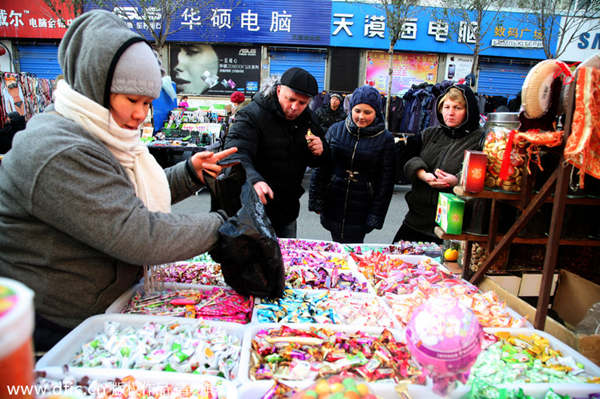 [Photo/icpress]
Ito Yokado has a small selection of foreign goods, and so despite the high prices, I find myself bypassing the ladies shoe department upstairs to make the journey down to the supermarket in the basement to buy wine and passata, capers and cheese.
But the foreign goods aisle is pretty limited. My already small repertoire of recipes was squeezed even tighter.
It was then I discovered the market. Hidden away in a residential complex, I only found it after an in-the-know local led me there. It was a narrow building packed with food stalls. Vegetable sellers with heaving tables of fresh produce, a small butcher and a woman selling eggs and grain. One small stand has a man covered head to toe in flour. He spends his days making fresh noodles and dumpling skins, which you can buy for as little as 3 yuan (48 cents) a bag.
There is a preserves shop, and a husband and wife team who serve up freshly made baozi (steamed stuffed bun) and an odds-and-ends stall, where you can buy everything from a new shower head to a jianzi, a sort of hacky sack ... with feathers.
And finally, I had found the best place to shop. It wasn't the supermarket - it was the secret market. Where you can select the best-looking tomatoes and the ladies stuff a handful of coriander into your shopping bag.
And without my staples of pasta and cheese, I've been forced to expand my repertoire. Making a not bad attempt at jiaozi (dumpling), ginger chicken and more stir fries and fried rice than I care to admit.
I still love supermarkets, but if you really want to get a glimpse into China - shop like a local, find the wet markets.
For more Hot Pot Column,click here