Shop windows into the future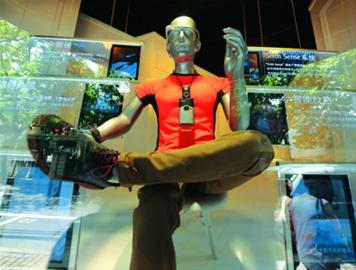 Shop windows have been installed with interactive and multimedia products. Hua Wenjing / For China Daily
Shop windows capable of taking pictures and surfing the Internet seem like Hollywood science fiction. But they're Shanghai's reality.
Six shop windows showcasing cutting-edge interactive and multimedia technologies have been installed at the intersection of Nanchang and Sinan roads in the city's Huangpu district, thanks to the Shanghai Association for Science and Technology's effort to popularize forefront technologies.
Each of the 2-meter-wide and 1-meter-high windows has a specific theme.
The most eye-catching is the second window, titled Upcoming Wonders, which displays futuristic yet extant innovations.
The Google Glass displayed by the hi-tech window fascinates 26-year-old Hong Bin.
Glass lets wearers take pictures, record video, send messages and perform other tasks with touch screens or vocal controls.
"I'd like to buy a pair when they're available as long as the price isn't staggering," he says.
Chen Ying was wowed by the GPS-navigated shoes with LED lights that were shown on the window.
"Just imagine - you'll never get lost wearing these shoes. It's innovative," the 20-year-old student says.
"I like this window because it shows us actual products I've only heard about."
Another window entitled Science in Life exhibits scientific knowledge in an interactive format. A camera catches your image and reflects it on the screen inside the window.
Next, questions - such as, "Can fruit juice alleviate a hangover?" - appear to test your basic science knowledge. You can pop clouds on the screen to reveal the correct answers.
The windows also exhibit models of China's Beidou navigation-satellite system, 3D-printed products and real-time reports of the city's PM2.5, or air pollution particles smaller than 2.5 micrometers in diameter.
SAST inspector Qian Zhiguang told the Shanghai Morning Post the exhibits will be regularly updated to display the latest technological gizmos, and similar windows are expected to appear on the city's renowned Huaihai and Nanjing roads.
The shop window show will be permanent, with exhibits updated periodically.