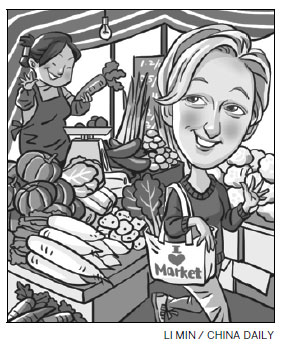 When visiting a foreign country, some people like to visit the monuments, others the
restaurant
s while some want to seek out the natural wonders.
I like the supermarkets.
Wallis Simpson, the US socialite who married a British prince, once quipped: "I never make a trip to the United States without visiting a supermarket. To me they are more fascinating than any fashion salon."
She was onto something. Supermarkets give a unique insight to a foreign culture. Forget temples and town halls - if you want to get a real glimpse into how the locals live, check out the cheese aisle in a Paris Carrefour, the frozen pies in an English Tescos and the bewildering array of impossibly perfect fruit in a United States Wholefoods.
There are two supermarkets near my apartment in Beijing. One is called WuMart, and you will find them dotted about the city. On my first visit I stared, awestruck, at the gigantuan noodle and soy sauce aisles. Other shoppers must have thought I was very odd, taking pictures of the giant bottles of baijiu (liquor), studying the various jars of eggs and preserves. But the real treat was in the meat and seafood section, where tanks of fish jostle for space with aquariums full of live bullfrogs. Giant slabs of animal carcass are hung on display and shoppers select from piles of pigs trotters and chicken feet.
WuMart is also notable for what it does not sell. There is no cheese, no Greek yoghurt, no pasta, tinned tomatoes or chickpeas. There is only a tiny amount of milk on offer. One of the hundreds of varieties of tinned fish is probably tuna, but I am yet to determine which.
The other supermarket near me is Ito Yokado, which is actually part of a giant upscale department store. The supermarket is smaller than WuMart's. This is for posh shoppers, with ladies offering samples of the latest brand of frozen dumplings and special displays of hairy crabs during Mid-Autumn Festival and a fancy sushi station.
For more Hot Pot Column,click here