The actions in the South China Sea by US warships have impaired mutual trust and stirred up tension in the region, Foreign Minister Wang Yi told US Secretary of State John Kerry during a telephone call on Friday.
Wang urged the United States to return to the right track of managing differences appropriately through dialogue and negotiation.
China-US relations are facing important opportunities after President Xi Jinping paid a successful visit to the US in September, and both countries should focus on implementing the agreements forged by the leaders and ensure the healthy and stable development of relations, Wang said, adding that China doesn't want to see unnecessary disruptions in the process.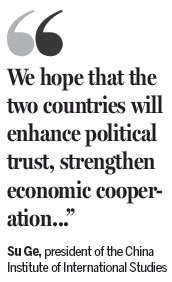 Wang made the remarks after US Secretary of Defense Ashton Carter visited an aircraft carrier transiting the South China Sea on Thursday.
Prior to that, the ASEAN Defense Ministers' Meeting - Plus held in Kuala Lumpur on Tuesday and Wednesday, which Minister of National Defense Chang Wanquan and Carter attended, failed to reach a joint declaration.
The reason for the failure, the Ministry of National Defense said on Wednesday, was "stand-alone countries outside the region disregarding the existing consensus and attempting to insert in the declaration content that was not within the meeting's discussion".
The disagreements over the South China Sea between China and the US started on Oct 27 when the US sent a destroyer into waters within 12 nautical miles of China's Zhubi Reef.
China and the US have extensive shared interests in the Asia-Pacific region, and cooperation between the two will be of mutual benefit, while fighting each other will hurt both, said Su Ge, president of the China Institute of International Studies.
"We hope that the two countries will enhance political trust, strengthen economic cooperation and cultural exchanges, manage differences effectively and avoid sparking a conflict," he said.
wangqingyun@chinadaily.com.cn