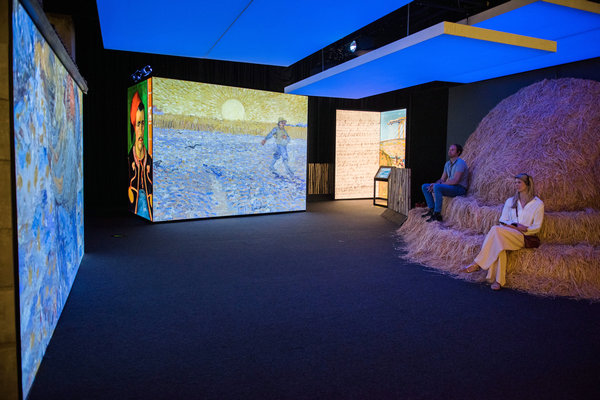 Visitors enjoy Van Gogh's paintings by sitting on a pile of wheat straw during the ongoing interactive show, Meet Vincent Van Gogh. [Photo by Feng Yongbin and Deng Zhangyu/China Daily]
The average ticket for multi-media show in China is about 100 yuan, the same as a film ticket. But the ticket for Meet Vincent Van Gogh is 288 yuan in Beijing-equivalent to a ticket for a drama or a concert.
"I think it is well worth it. You need just 10 minutes for other shows. But for our show, you need at least 45 minutes to explore the details of Van Gogh's life and works," says Lam, describing previous multimedia shows in China as "PowerPoint presentations".
Contact the writer at dengzhangyu@chinadaily.com.cn
If you go
10 am-10 pm, through Sept 16. The Square of Jinyuan Shopping Center, No 1 Yuanda Road, Haidian district, Beijing. www.meetvincent.com.