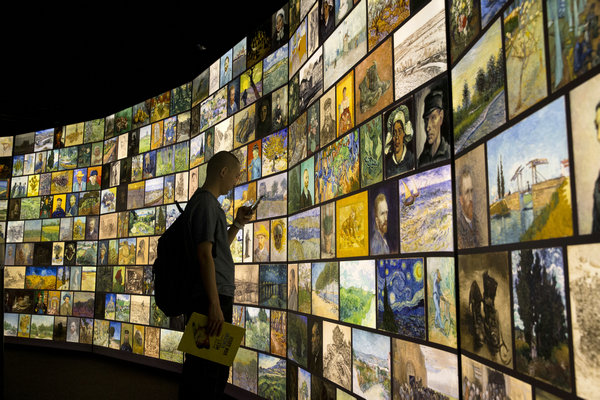 [Photo provided to China Daily]
Ruger is confident about the show's quality and popularity since it took them nearly two years to produce. He says the "experience" show is a much richer and broader presentation of the master artist's extraordinary life than other material available to the public.
Liang Jianxin, who visited the show on Saturday, says she's more interested in the details of Van Gogh's life and works than the technology used in the show.
"The Chinese have lots of opportunities to see hi-tech. But we're more attracted by details such as how Van Gogh created his painting The Bedroom," says Liang, who has seen many multimedia shows, like the Monet show, which opened in Beijing in May.
Lam Ching Kui, chairman of Wai Chun Culture, which won the bid to organize the show in China last year, says his investment in the show so far is more than 100 million yuan ($16 million), while other shows staged previously in China involved no more than 10 million yuan each in terms of production cost.