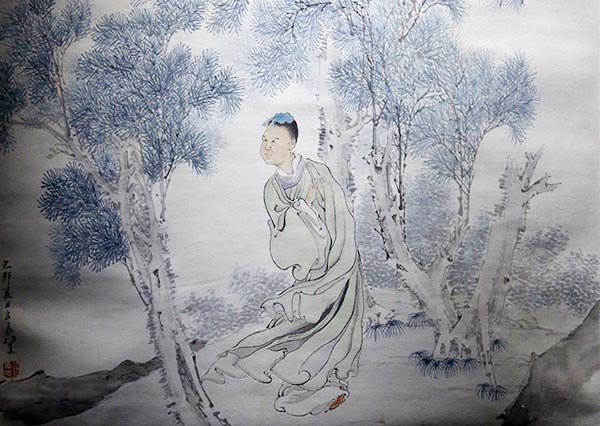 A painting displayed at Yiheyuan Summer Palace. [Photo by Jiang Dong/China Daily]
A selection of the Shanghai Yuyuan Garden's collection of Chinese ink paintings is now on show at Beijing's Yiheyuan Summer Palace, providing a glimpse of the work of the Haipai school of painting that was born in Shanghai and later spread to neighboring areas in the early 20th century.
On show are 53 paintings and calligraphic scrolls of the school's leading artists, including Ren Bonian, Wu Changshuo and Feng Zikai.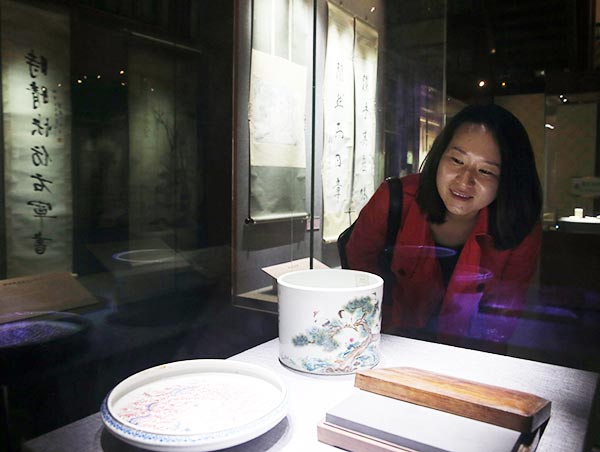 A visitor looks at a ceramic bowl. [Photo by Jiang Dong/China Daily]
The Haipai school of painting moved away from the literati style that was prevalent at that time as it felt it was far removed from the life of the common people.
Artists of the Haipai school used diverse approaches and vivid colors to portray popular motifs.
They also absorbed elements from Western art.
The exhibition runs through June 20.
Related:
Vegetable vendor shows painting talent in Kunming
Chinese shadow puppetry highlighted in Beijing visual art show