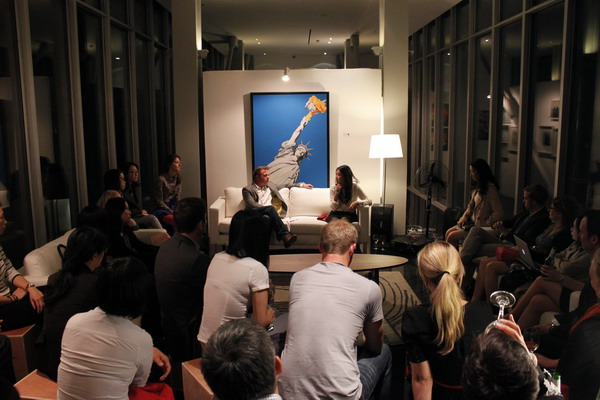 Tom Pattinson shared his experience with domestic and overseas journalists at an exhibition in Shanghai in September 2014.
"Over the last ten years in China, there have been huge changes. Those changes are continuing today," says Pattinson, who first moved to China in 1997 and worked as a volunteer English teacher in rural Shandong province.
He says examples of the changes that young people were affected by included the effects of the one-child policy, China's rapid economic growth, young people's diversified options and the gap between the rich and poor.
"Still now, much of the art that people are exposed to in China is high-end. But in the next few years, we will see more and more people experience art, see art, enjoy art, go to galleries, understand art, and therefore start to collect art," he says.
Pattinson says SURGE Art has plans for a show in Beijing in May, one in Shanghai in autumn and possibly further events in Southern China as well.
He aims to reach more people and get them involved in art through SURGE Art's newly launched online e-commerce shop.
Beijing and Shanghai have seen more art businesses open and institutions like the Ullens Center for Contemporary Art help promote and boost awareness of the art market.
Pattinson explains that an increased number of companies working in the affordable art arena are a "good thing".
"The more people working in the sector enables us to reach more people, grow awareness and understanding and therefore grow the market as a whole. I compare it to the wine market. It wasn't just one wine company that grew the market it took hundreds of wine companies to create a popular wine market in China. If everybody pulls together, the whole market can expand," he says.
He adds he would "absolutely" stay in this industry. "It's one of these markets that continues to grow. I think that's something that hopefully over the next three to five years, more and more people will learn about art and have access to art."
Wu Xinning and Meng Dongxue contributed to this story.