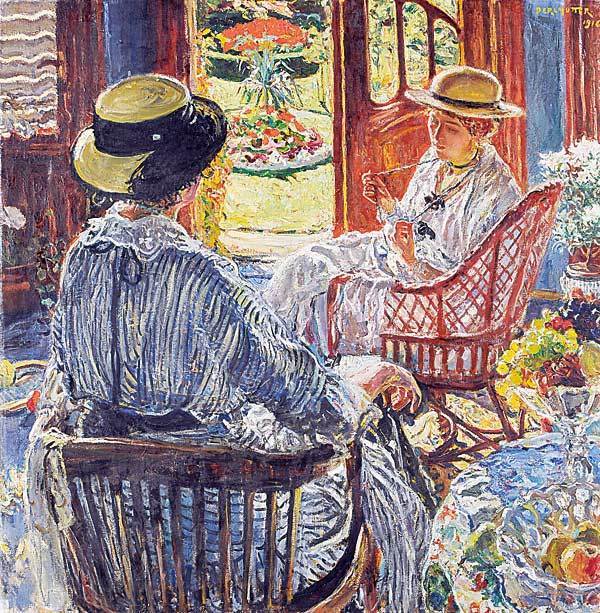 On the Terrace by Hungarian artist Mihaly Munkacsy is currently in Shanghai.
It depicts a condemned prisoner's last night at home, when he was allowed an opportunity to say goodbye to family and acquaintances. The man sits by the table, his fists clenched, and his face darkened. People around him are displaying diverse emotional responses. Fellow countrymen are sympathetic, a child looks at him with curiosity and hesitation, and a guard leans nonchalantly on a column with his bayonet in hand.
The protagonist was a condemned national traitor, as he fled to the wilderness to avoid getting enlisted in the Austrian Emperor's army.
Many of Munkacsy's other paintings share the theatrical quality of The Last Day of a Condemned Man, such as paintings portraying woman buying a chicken in the poultry market, gypsies camping in the forest, and among the most acclaimed creation, The Blind Milton Dictating Paradise Lost to his Daughters.
Aside from the harmonious composition and balanced contrast between colors, these genre pictures depicting everyday life made up an important proportion of his work. They are also more interesting than the large-scale biblical paintings.
Later in Munkacsy's career, as his artworks started to demand good prices, his subjects turned to the lives of the wealthy: a young mother looking at her baby in a finely furnished drawing room, children playing with puppies, a rich woman reading and so on.
In 1956, an exhibition of Munkacsy was held in Beijing and Shanghai, one of the few foreign artists shown in China in those years. His most recent exhibition abroad took place at the Musee d'Orsay in Paris in 2010. Many of the paintings were borrowed from private collectors all over the world, says Baan.
If you go
9 am-6 pm, till Jan 18, 2015, China Museum of Art, Shanghai, Exhibition Hall No.17, 205 Shangnan Road, Pudong, 400-921-9021
20 yuan
浦东上南路205号,中华艺术宫