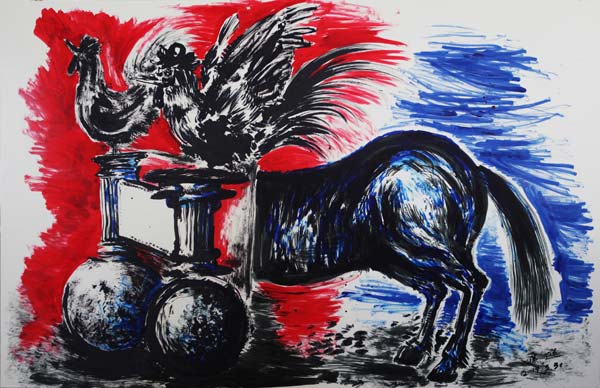 Young artist Sun Xun's works are on display at Edouard Malingue Gallery.
Local galleries exhibiting at Art Basel Hong Kong also offered meticulously curated shows in their permanent galleries across the city.
Fuxin native Sun Xun, one of China's rising young artists, has a solo show entitled Brave New World at Edouard Malingue Gallery.
It features drawings and installations referencing Aldous Huxley's dystopian view of the future. The centerpiece is Sun's animated film What Happened in the Year of the Dragon, housed within a farmyard-animal inspired installation.
Meanwhile, de Sarthe Gallery presents Pioneers of Modern Chinese Painting in Paris, a collection of 12 first- and second-generation Chinese painters who studied Western techniques in Paris during the early to mid-20th century.
Painters such as Xu Beihong and Pan Yuliang returned to China with their newly acquired knowledge only to see most of their works destroyed during the "cultural revolution" (1966-76).
The extremely rare works on display collectively show China's first break from its long history of calligraphic brushwork and provide food for thought about emerging talent.
Contact the writer at sundayed@chinadaily.com.cn