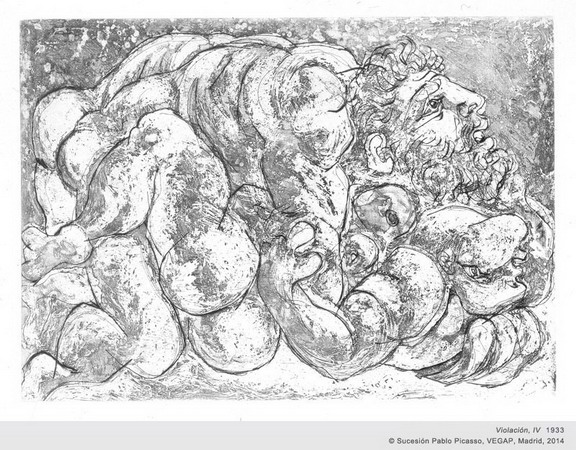 Violation, IV,1933 Provided to China Daily
The set fully expresses the complexity of Picasso's unique persona; the Minotaur is taken as an incarnation of the great Spanish artist, speaking for his loneliness and twisted inner world, the ambassador says.
The set was commissioned by and named after Ambroise Vollard (1866-1939), and contains three portraits of him. Picasso exchanged the set for
painting
s of Cezanne and Renoir.
A legendary dealer and collector of avant-garde art, Vollard established his reputation by representing many notable artists, such as Cezanne, Gauguin, Van Gogh and Renoir.
Vollard mounted Picasso's first exhibition in Paris in 1901. Their association was a long-lived one, though Vollard didn't become Picasso's contracted dealer.
"They maintained quite a good friendship. For Picasso, Vollard was more than a gallerist-he was a friend, and that's why the portraits of Vollard made by Picasso were so important," Gomet says.
"But in an artistic way, Picasso was more comfortable with Daniel-Henry Kahnweiler, who was his real gallerist."
Art historians say Vollard failed to recognize Picasso's full potential as he ignored Picasso's ventures into Cubism and Abstraction.