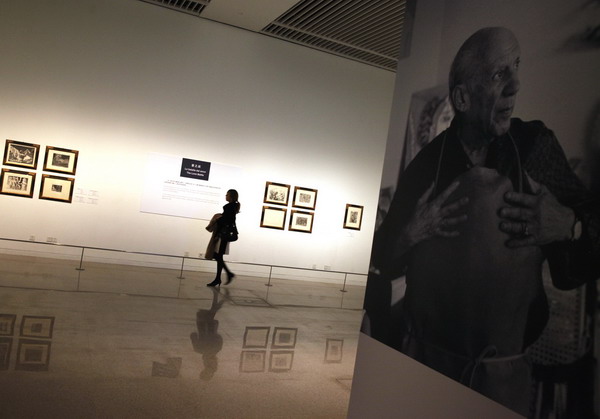 The China debut of the Vollard Suite offers a rare chance for Chinese viewers to get a close look at Picasso's artistic and personal life. JIANG DONG/CHINA DAILY
Richly emotional and sometimes erotic, a set of 100 etchings on exhibit at the National Museum of China reflects both the artist's versatility and a milestone in 20th-century art, Lin Qi reports.
They are described as "a walk through Picasso's mind" and "the center of the labyrinth" to the master's inner self by curators at the British Museum. The acquisition of a complete set of them is priceless for public institutions and private collectors.
More than seven decades after they were produced, the 100 etchings that make up the Vollard Suite are being shown in China.
The set was assembled by the Official Credit Institute Foundation of Spain, reputed to be one of the most important collections of Spanish art of the 20th century. Its current display at the National Museum of China also celebrates the 40th anniversary of Sino-Spanish diplomatic relations.
For Chinese viewers who mostly know about Picasso's surrealistic works, especially the celebrated Guernica, the set, created in the neoclassical style, will shed new light on their understanding of the gamut of Picasso's rich emotions, his obsessions with art and eroticism in particular.
The Vollard Suite took Picasso seven years to finish (1930-37) and marks a pinnacle of not only the artist's career but also the etchings of the 20th century.
IF YOU GO
9 am-5 pm, closed on Mondays, until April 27. National Museum of China, east of Tian'anmen Square, 16 East Chang'an Avenue, Dongcheng district, Beijing. 010-6511-6400.