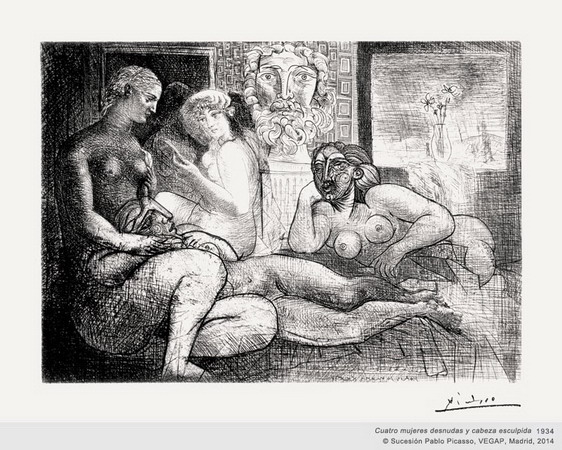 Four Naked Women and Sculpted Head,1934   Provided to China Daily
After developing Cubism, Picasso achieved gradual maturity in handling all kinds of techniques and art languages. However, he turned to the classical presentation when producing the suite. Critics complained that he moved backward from the modernist trend and compromised with the order.
"I've been reading Francoise Gilot's book Vida con Picasso (Life with Picasso) recently, in which she mentioned 64-year-old Picasso once talked about the Vollard Suite," says Manuel Valencia Alonso, Spanish ambassador to China.
Gilot, a French painter, had a decade-long affair with Picasso and mothered two of his children.
"Picasso was quoted as saying: 'It all happens on the mountainous Creta Island in the Mediterranean Sea where the Minotaur resides. The Minotaur places works of the best painters and sculptors everywhere in his home. He likes to be surrounded by beauties, so he forced the island's fishermen to seduce beautiful women elsewhere to Creta. When the daytime heat fades away, the Minotaur plays host to artists and their models at his place. Accompanied by the music, they feast with delicious seafood and drink champagne, till their sorrows are gradually replaced by infinite joys'.
"Turning to a puzzled-looking Gilot who was in her early 20s, Picasso said, 'I know everything (I said) sounds like a mess. But don't you understand (from what I said) what does genius mean?'"